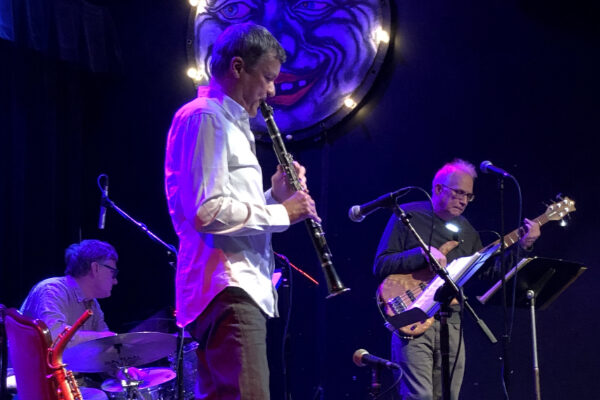 Ramen Trio was formed in 2016 by three veterans of the Seattle music scene with the purpose of writing, improvising and performing music that branches out while at the same time acknowledges the lifeblood of music that came before. The band combines form and freedom through composition, improvisation, jazz and contemporary classical styles while adding splashes of folk and rock resulting in an open-ended dance of ideas. Any player can "float to the top" at almost any time once these guys start rolling. They are currently working towards making their second studio recording.
James DeJoie (clarinet, bass clarinet) has been playing, writing and performing in Seattle for over thirty years. From classical performances to electronic progressive rock and back again, James keeps evolving. After graduating from Central Washington University, he toured extensively throughout the US and internationally for 10 years before settling back into the Seattle area in the early 2000's.
Doug Lilla (5-string bass guitar) moved to Seattle in 1982 to study with Gary Peacock and played upright bass throughout his younger years, but switched to bass guitar after his hands voiced their unhappiness. His hands are happy now.
Jay Weaver (drums) has been playing in various Jazz, Rock, Country and Cajun bands in the Seattle area since the 1980s.
(00:00) Resembling
(04:16) The Hat Slips Under the Surface
(9:08) A Priori
(14:27) Absorbed
(20:52) Cluster
(26:41) Is Someone There?
(33:20) Keep Your Eyes Peeled
With the Chapel closed indefinitely due to the COVID-19 pandemic, the Wayward Music Series moves from the concert hall to the living room. In place of our usual ten monthly concerts, Nonsequitur is commissioning ten Seattle artists each month to create a series of streaming audio sessions of previously unreleased material.