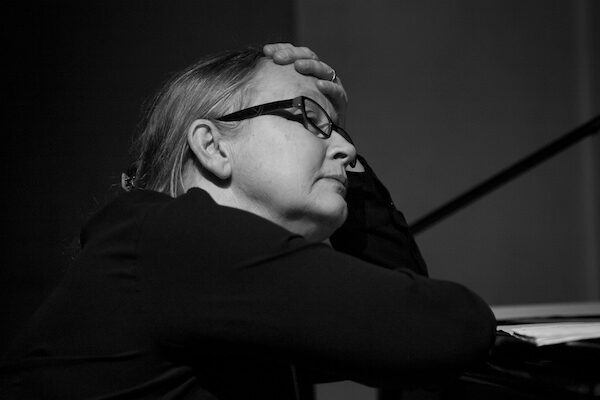 Robin Holcomb plays the piano, sings, writes, and records music. Following Sundanese Gamelan study, sharecropping tobacco, and several crucial years in the Lower East Side music community, she has lived and created music in Seattle since 1989. She is currently composing a piece for The Philadelphia Orchestra.
These thirteen solo piano pieces were written, developed, invented, and recorded in my home studio during the coronavirus pandemic. I was worried that they would all sound the same. As it turns out, they have nothing and everything to do with each other. Deep thanks for the opportunity to be a part of this series, and to everyone for listening.
(00:00) 6.20.21
(03:08) 8.9.20
(09:33) Wayward 1
(13:20) 7.18.19.21
(15:18) 6.11.20
(19:39) Free
(24:06) Ash Trees Also
(29:07) Hymn
(32:06) Improvisation 1
(34:52) Improvisation 2
(36:37) Improvisation 3
(38:10) Improvisation 4
(40:51) Improvisation 5
(photo: Peter Gannushkin)
With the Chapel closed indefinitely due to the COVID-19 pandemic, the Wayward Music Series moves from the concert hall to the living room. In place of our usual ten monthly concerts, Nonsequitur is commissioning ten Seattle artists each month to create a series of streaming audio sessions of previously unreleased material.