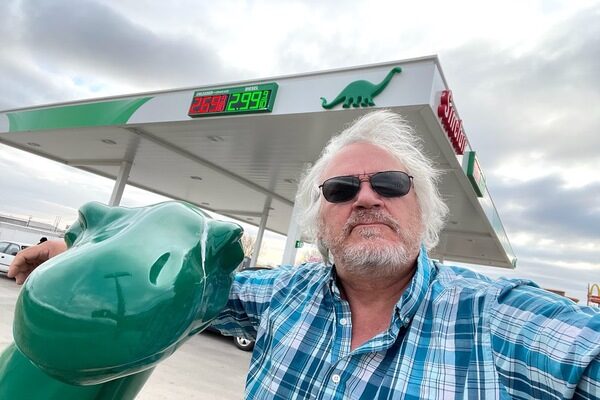 Eric Muhs builds instruments, records, and produces from his Invisible Music studio in Ballard. A physics and astronomy teacher and founder of community radio station KBFG 107.3, he's been active in music since 1980, pushing boundaries across structured and improvised music. He's played for a decade with a traditional Hawaiian band, Na Hilahila Boys, and released 3 albums during quarantine, including Frontera Dogs, a collaboration with poet and professor Gabriella Gutiérrez y Muhs. (Listen on SoundCloud and BandCamp)
I received the invitation to create a piece for the Wayward in Limbo series in the middle of a gigantic cross-continent road trip to see my mother and brother on the East Coast, the first time in nearly two years. The geography of my upcoming drive back west to Seattle suggested an organizing structure: the piece would open with toes in the Atlantic Ocean, and end at the Pacific, with a poem at each end by my partner Gabriella Gutiérrez y Muhs (she came east, but flew home while I drove). In between, sounds from the road: waterfalls, the slapping rhythm of highways, snoring, a midwest thunderstorm, the lucky find of a coffee shop in Kansas, the wind through tall grass prairie. For many years, I've traveled with a ukelele, to Europe, to Central America, to Africa, and I record new on-site improvised pieces wherever I go. When I got back to my studio I recorded some additional music – lately I've been working on ukelele electronic dreamscapes in 8-channel stereo – and built out a four-dimensional sonic narrative that crosses the continent.
With the Chapel closed indefinitely due to the COVID-19 pandemic, the Wayward Music Series moves from the concert hall to the living room. In place of our usual ten monthly concerts, Nonsequitur is commissioning ten Seattle artists each month to create a series of streaming audio sessions of previously unreleased material.