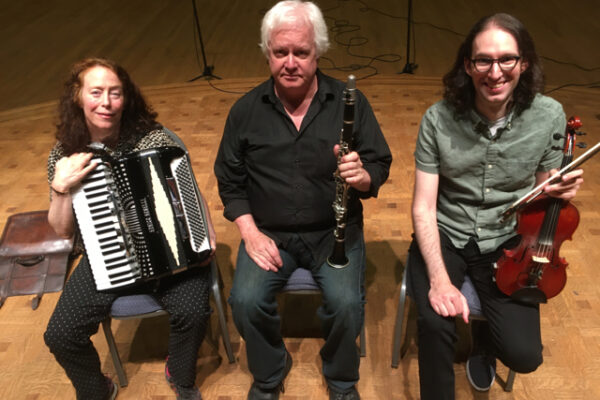 After seven years as a rock bassist and singer, Lu Evers switched to reeds, and began studying jazz with Al Hood's Workshop in Seattle, 1974. Then they joined a spinoff group, Holus Bolus, and dove deeper into composition. Over the next two decades they led several small groups, including a celebrated quintet featuring Jim Knodle and Jack Endino, continuing focus on free jazz compositions and ideas from rock, blues and Eastern European folk sources. While in New York in the early 2000s, Lu performed with Willie Davis, Victor Prieto, the Blue Vipers of Brooklyn, and an original trio with Nick Russo and Debbie Kennedy. Since that time there has been an even stronger focus on original material. Lu (clarinet) is joined here by Amy Denio (accordion) and Matty Noble (fiddle).
Red Leaf was inspired by a trip to Vancouver, B.C., to attend a concert by the Art Ensemble of Chicago. It was not only that great group, but the vibrant Vancouver Jazz Society that helped to spawn these ideas. This pared down version is designed especially for this trio. Mood is the central component, with melodic drifts swirling, thick dissonant clusters from the accordion, and a blend of middle eastern and jazz lines.
Crawdad Pool is a hard folksy funk drawing from Perry Robinson's early work. In this case, we develop ideas from the melody alone, with no parts written. The title refers to an activity of my youth, catching crawdads with my bare hand.
The third piece, Eve 6, was created nearly out of thin air after re-watching an episode of The X Files. The performance of Harriet Harris was transfixing, and this title was her character's name. Long, patient lines from the clarinet and the fiddle, with minor second harmonies, are supported with extreme minimalism from the accordion. The patience and minimalism continues into an open-ended group improvisation. The tension and release, exhibited so piercingly by Ms. Harris' performance, is being illustrated and honored here.
With the Chapel closed indefinitely due to the COVID-19 pandemic, the Wayward Music Series moves from the concert hall to the living room. In place of our usual ten monthly concerts, Nonsequitur is commissioning ten Seattle artists each month to create a series of streaming audio sessions of previously unreleased material.