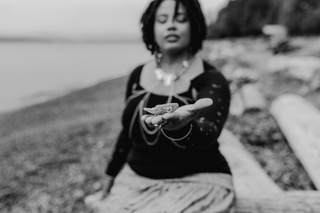 Tamara Zenobia combines the elements of Vocal Alchemy, percussion, electronic music and other world instruments to create a very authentic sound that is all her own. As an Improvisational Storyteller she craftily weaves divination, vocal alchemy mastery, song, spoken word and divine guided body movements into her performance to create a very eclectic mix of groovy sounds and hypnotic beats. Tamara is the founder of Inner Guidance Healing Arts Studio & Gallery AND Butterfly Jazz Intuitive Arts LLC, a multifaceted company that provides holistic healing services through audio, visual and performance arts.
I'm calling this exploration Creating Our Stories. This work is about speaking life into ourselves and into our world. Healing ourselves with our thought vibration frequencies rather than letting the News and the powers that be speak over us and into our lives. The intent of this work is to inspire us to work harder to turn things around for humanity through our thoughts, words and actions so we can live and be healthy and happy.
With the Chapel closed indefinitely due to the COVID-19 pandemic, the Wayward Music Series moves from the concert hall to the living room. In place of our usual ten monthly concerts, Nonsequitur is commissioning ten Seattle artists each month to create a series of streaming audio sessions of previously unreleased material.