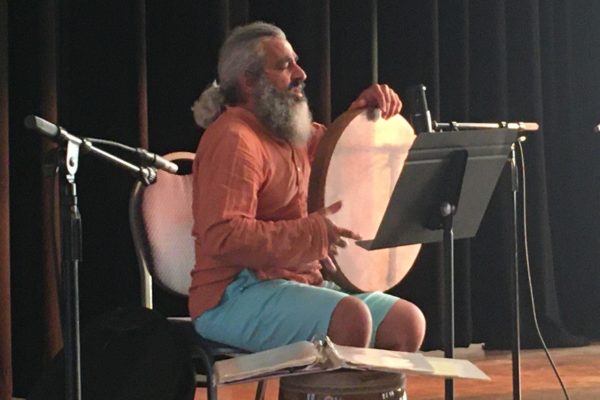 Ahmad Yousefbeigi is an inspired and sought-after percussionist/vocalist from Kurdistan. Ahmad's versatility, love of cultural exchange and collaboration has co-founded Yesod in 2010, an acoustic, avant-garde improvisational collaboration. In 2017 he became a member of the band The Crown and released their first vinyl record in 2018. He has performed at the Chapel many times with YESOD, Amy Denio, and Arrington de Dionyso.
In my live-raw recording-music performance I tried to present some songs which each one reminded me of certain memorable times in my life. The first song reminded me of my Pish-Dastgah (Iranian-Radif system) teacher, Dr. Hussein Omoumi. Second piece in memory of my dear friend who I have his memories with is Yusef Nouroozi. Third, fourth and fifth pieces are Kurdish songs which reminded me of my rich Kurdish culture/heritage. The sixth and seventh songs are in memory of well-known female influential poet and women's right activist in Iran, Táhirih Qurrat al-ayn. At the end I tried to finish this music performance with two instrumental solos starting with Tonbak and ending with Kurdish Daf.
With the Chapel closed indefinitely due to the COVID-19 pandemic, the Wayward Music Series moves from the concert hall to the living room. In place of our usual ten monthly concerts, Nonsequitur is commissioning ten Seattle artists each month to create a series of streaming audio sessions of previously unreleased material.