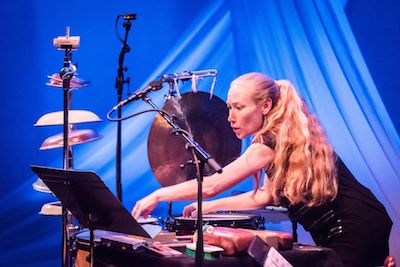 Bonnie Whiting performs new experimental music, seeking out projects that involve the speaking percussionist, improvisation, and non-traditional notation. Her second solo album, Perishable Structures launched in 2020 and places works for speaking percussionist within a context of storytelling. 2021 brings the premiere of Through the Eyes(s): an extractable cycle of nine pieces for speaking/singing percussionist collaboratively developed with composer Eliza Brown and nine incarcerated women, and the world premiere of a new percussion concerto by Huck Hodge with the Seattle Modern Orchestra. She is Chair of Percussion Studies and an Assistant Professor of Music at the University of Washington.
Control/Release (2020) is a companion to my piece Control/Resist (2017). The earlier work is a musical expression of two sides of political action: the private daily work of sustained resistance and the less frequent acts of public demonstration/shared experience. It is punctuated by crowdsourced recordings from the Indianapolis Women's March on 1/20/17 and eruptions of cathartic white noise. In the days after the 2020 election in the US, relieved and exhausted, I was compelled to think about how long-term, sustainable political action might evolve in the coming months. Control/Release (2020) explores a near-continuous soundscape of gradually-shifting, purely acoustic white noise punctuated by various bells/resonant pot lids, extending the cathartic moments from the earlier work to become constant, noisy, ambient drones.
With the Chapel closed indefinitely due to the COVID-19 pandemic, the Wayward Music Series moves from the concert hall to the living room. In place of our usual ten monthly concerts, Nonsequitur is commissioning ten Seattle artists each month to create a series of streaming audio sessions of previously unreleased material.