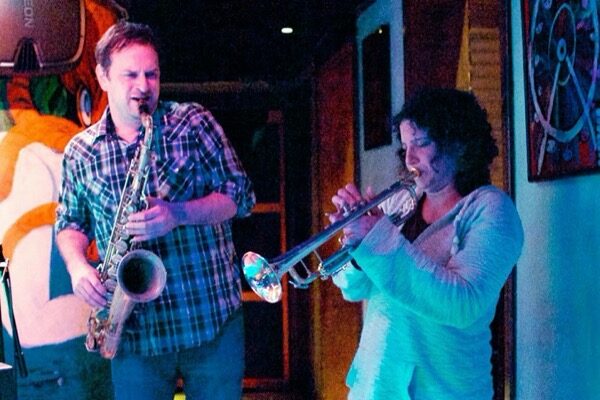 Samantha Boshnack (trumpet, flugelhorn) and Chris Credit (tenor & baritone saxophones) have worked together for 13 years. They played together for five years in the modern jazz sextet Reptet, which featured all-original compositions from each member of the band, released two albums and a single, and toured extensively. In 2011, Boshnack started creating her own ensembles featuring her compositions exclusively. Credit is a member of Boshnack's 14-piece alternative chamber orchestra, B'shnorkestra, which has released two albums and played many NW performances including Earshot Jazz Festival; he also plays in Boshnack's group Seismic Belt, whose performances include Festival of New Trumpet Music and Winter Jazzfest in NYC.
This duo project draws on their rich musical relationship, exploring compositions and improvisations in an intimate, agile, and unconfined setting. This performance, recorded at the Chapel by Steve Peters, features three previously un-released Boshnack compositions and concludes with a free improvisation.
(00:00) Small Beast
(08:55) Little Ball of Energy
(17:10) Song for the People's
(22:35) Improvisation
(photo: Chris Davis)
With the Chapel closed indefinitely due to the COVID-19 pandemic, the Wayward Music Series moves from the concert hall to the living room. In place of our usual ten monthly concerts, Nonsequitur is commissioning ten Seattle artists each month to create a series of streaming audio sessions of previously unreleased material.