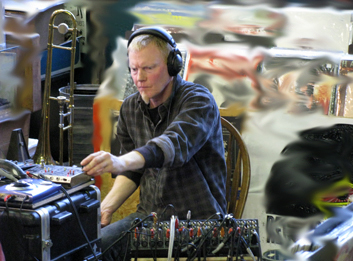 Rob Angus has been composing and performing in Seattle since the early 1980s. Having studied electronic music at the Boston School of Electronic Music and Penn State University, he became more interested in manipulating acoustic sounds. These days he tends to make acoustic music that often sounds like electronic music. Listen on BandCamp.
This is a live recording in four parts – actually, four live recordings.
The first two are older pieces played on two Mirage sampling keyboards, the third combines sampler with winds and horns, and the fourth uses a bell, gong, cymbal, percussion, trombone and cello, but no sampler.

With the Chapel closed indefinitely due to the COVID-19 pandemic, the Wayward Music Series moves from the concert hall to the living room. In place of our usual ten monthly concerts, Nonsequitur is commissioning ten Seattle artists each month to create a series of streaming audio sessions of previously unreleased material.