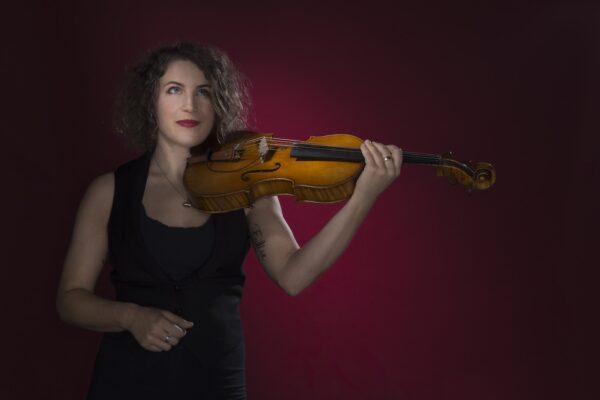 Alex Guy is a Seattle-based violinist, violist, singer and composer, and is the leader and principal songwriter of Led To Sea, a magnetic trio that fuses classical, pop and experimental music. Alex has also composed extensively for film, theater, and dance, and has performed and collaborated with a virtual who's who of bandleaders, composers, improvisers and jazz musicians in the Pacific NW and beyond, including Angel Olsen, Thao and the Get Down Stay Down, Wayne Horvitz, Mirah, Sera Cahoone, Jherek Bischoff, Ahamefule Oluo, Laura Veirs, Amanda Palmer and many more.
These seven solo viola improvisations were recorded at the Chapel one evening this fall. When I work on recordings I typically get into a critical and perfectionist mode. In contrast, when I'm improvising it often brings out in me a deep sense of freedom and trust in my own voice (on a good day anyway!). During the isolation of COVID, my goal has been to discover a more genuine version of myself in relationship to other people, and these pieces have become part of that challenge. I took the recording of the session home intending to make modifications and corrections. As I kept listening to the pieces, I decided that their peculiarities and imperfections (including the sounds of the room itself) were some of my favorite parts – spontaneous and true to the moment, so I left the tracks mostly untouched. I hope you enjoy them!
1 – 0:00
2 – 5:48
3 – 10:01
4 – 12:46
5 – 16:51
6 – 20:32
7 – 24:24
With the Chapel closed indefinitely due to the COVID-19 pandemic, the Wayward Music Series moves from the concert hall to the living room. In place of our usual ten monthly concerts, Nonsequitur is commissioning ten Seattle artists each month to create a series of streaming audio sessions of previously unreleased material.