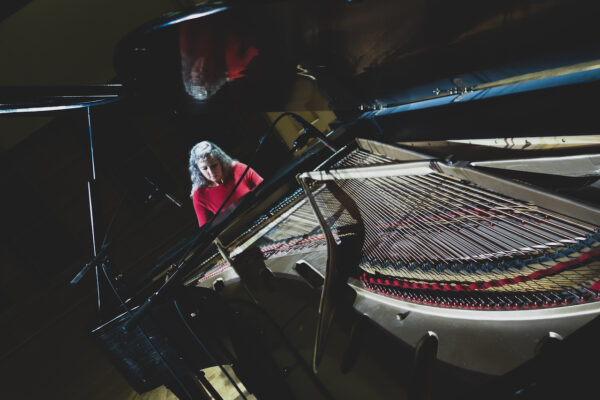 Garrett Fisher has created more than a dozen opera-theatre productions in the US and Europe that have "combined elements of opera, dance, Indian raga, Japanese Noh theater and more into fusions that have both a ritualistic intensity and an improvisatory freedom…a groundbreaking hybrid…a strong, unified and strikingly individual utterance of unambiguous beauty" (The New York Times).
GraceANN Cummings is a pianist known for her concerts and CDs that take listeners INSIDE the MUSIC which she has been presenting throughout the United States since 1994. Her repertoire in these concerts spans the centuries since Bach to premiere performances by living composers, designed to give audiences a deeper listening experience with the relationship of silence that moves amidst the sounds.
Raga Études for Piano – Book 1: Winter
Composed by Garrett Fisher
Performed by GraceANN Cummings, piano
Up until now I've mainly created large scale opera-theatre productions, and these piano works are the first real pieces I've written for a solo instrument. In my operas I weave in "ragas" – improvisatory frameworks inspired by Indian classical music – that intentionally disguise my own inspiration in order to encourage performers to discover their own. This freedom is foreign to most western musicians, and requires great trust and extensive practice. It also yields performances that are fresh and alive as we never know what the performer is going to come up with. With these piano ragas, I stepped out of the world of theatre and entirely into the world of sound.
As I was beginning to flesh them out, I came across a video of GraceANN playing Prokoviev's "Toccata in D minor." I thought she was a fearless performer, and I knew immediately she was the one meant to bring these to life. Thankfully, she was as into it as I was. Unlike my work with opera-theatre, where the pieces are developed through an intensive rehearsal process, GraceANN and I have had no rehearsals, only trust which was established within minutes of our first meeting. She's been as silent as my blueprints, and as with you, this performance is the first time I've heard the full series live. It's an exciting new direction. On to Book 2!
[0:00] 1: Winter Solstice – Night
[2:25] 2: Winter Solstice – Dusk
[5:40] 3: Mid Spring – Dawn
[7:15] 4: Mid Winter – Morning
[8:33] 5: Mid Fall – Dawn
[12:58] 6: Late Fall – Afternoon
[15:31] 7: Late Summer – Morning
[18:10] 8: Fall Equinox – Noon
[21:06] 9: Late Spring – Noon
[23:40] 10: Mid Summer – Dusk
[26:12] 11: Late Winter – Afternoon
[29:53] 12: Spring Equinox – Night
[32:04] 13: Summer Solstice – Noon
[33:37] 14: Late Winter – Dawn
[34:38] 15: Mid Winter – Dawn
[37:27] 16: Mid Summer – Dawn
[40:39] 17: Summer Solstice – Dawn
[42:24] 18: Late Fall – Noon
With the Chapel closed indefinitely due to the COVID-19 pandemic, the Wayward Music Series moves from the concert hall to the living room. In place of our usual ten monthly concerts, Nonsequitur is commissioning ten Seattle artists each month to create a series of streaming audio sessions of previously unreleased material.