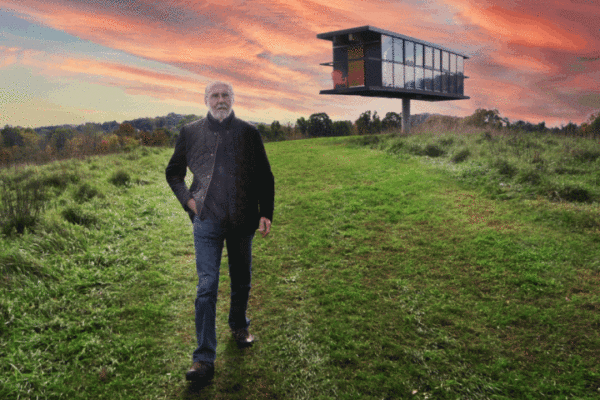 What Is Man and What Is Guitar?, a short film about iconic abstract musician Keith Rowe (U.K., France), directed by Bob Burnett and Seattle-area musician Alan F. Jones, is presented in its first Seattle screening.
"…one of the best films about a musician I've seen. " — Sasha Frere-Jones
Keith Rowe has spent a lifetime exploring the relationship between sound and physical objects through what can only be loosely described as the guitar. What Is Man And What Is Guitar? Keith Rowe is a short film that probes the thinking of Keith Rowe and the fascinating way he approaches art, the guitar and himself.
The film documents passages of Rowe's ongoing journey, from playing jazz through early years of poverty in Britain, to exploring the unexplored with the ensemble AMM, to his groundbreaking solo, duo and ensemble work from beneath the small umbrella of fringe music. Across six decades, Rowe's body of work has functioned as a signal for the parameters, signposts, and permissions for the unorthodox in improvised music.

On this occasion the film will be presented by sound designer and co-director Alan F. Jones, and Rowe's biographer Brian Olewnick, author of The Room Extended. Includes short featurettes with Oren Ambarchi and Sandy Ewen, surrounding Rowe's influence. A 30-minute Q&A will follow.

Alan F. Jones (Dallas, TX, 1971) is a Washington-based audio engineer, performing musician, and composer. He owns and operates Laminal Audio, where in addition to mastering and production he works frequently as a sound designer and supervising post audio for film. Jones is a member of the Seattle-based ensembles, 'what' and Telescoping, favoring pedal steel and lap steel guitar in performance. He also runs the Marginal Frequency record label. Jones resides in Tracyton, WA.

Brian Olewnick is a new music writer and visual artist. He helped run the avant-garde jazz loft Environ from 1976-1980 and was eventually seduced into writing about contemporary music in various forms from jazz to modern classical, free improvisation and beyond. He has written for All Music Guide, The Wire, Time-Out New York and other publications in addition to his blog, Just Outside, one of the principal sites for analysis of new music, where he has published over 2,000 reviews since 2006. He has given talks on the craft of writing about contemporary music in Philadelphia, Västerås, Sweden and Sokołowska, Poland. He lives with his wife Betsy Wallin, in Kinderhook, New York.
COVID-19 PROTOCOLS: Following current mandates from King County & WA State public health officials, all audience members at this performance will be required to wear masks regardless of vaccination status. Additionally, chair seating will be arranged to maintain social distancing; people who live together may group chairs accordingly. Windows will be open, weather permitting.