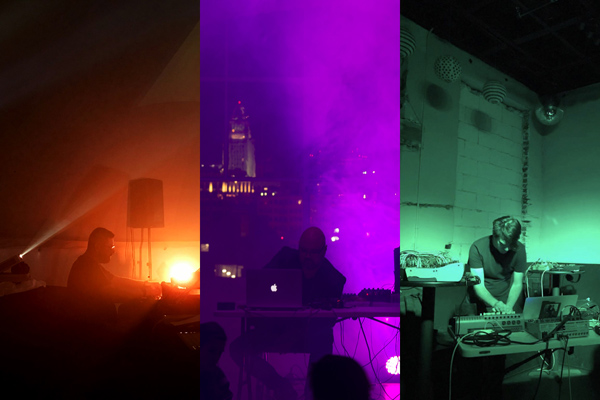 Los Angeles artists Yann Novak, Robert Crouch and Ian Wellman visit Seattle on the first stop of their west coast tour. Yann Novak will present his new work Slowly Dismantling, reflecting on his formative experiences as a queer youth in middle America and explores these acoustic and social spaces as zones of liberation. Robert Crouch will perform new work inspired by poet Ted Berrigan, that explores the tensions between collective listening and personal reflection. Ian Wellman will be performing segments from his latest offering, Bioaccumulation, and new material comprised of recordings made around Southern California, Sierra Nevada, and Lake Azeui, Haiti.
Yann Novak is a queer interdisciplinary artist and composer based in Los Angeles. His work is guided by his interests in perception, context, movement, and the felt presence of direct experience. Through the use of sound and light, Novak explores how these intangible materials can act as catalysts to focus our awareness on our present location in space and time. Novak's diverse body of works—audiovisual installations, performances, recording, and prints—ask participants to reclaim the present moment as a political act. His works have been released by 901 Editions, Dragon's Eye Recordings, LINE, Room40, and Touch, among others.
Robert Crouch is an artist and curator whose work encompasses sound, performance, and technology. As an artist, he locates his work with the intersection of post-phenomenological listening practices, conceptual sound art, and contemporary electronic music. At its core, his work can be understood as a conversation between tonality, context, history and subjectivities. Similarly, Crouch's curatorial work focuses on the overlapping disciplines of sound, technology, movement, and performance. Crouch is currently the Executive and Artistic Director for Fulcrum Arts and the Artistic Director for the A×S Festival. His works have been published by Dragon's Eye Recordings, LINE, and Touch, among others.
Taking influence from ethnographic film, bioacoustics, and noise music, Ian Wellman merges real and imagined worlds to create consuming acoustic portraits. His work is created from single tape loops, effect pedals, and field recordings, often focusing on themes based on the environmental collapse. Wellman's solo efforts have been released on Room 40, Dragon's Eye Recordings, Touch Radio, and Industrial Coast. Along with Aaron Bartell, he is part of the collaborative listening duo Zzyzxzyzz, which focuses on electromagnetic and other inaudible by ear sound worlds. Ian Wellman works and resides in Los Angeles.