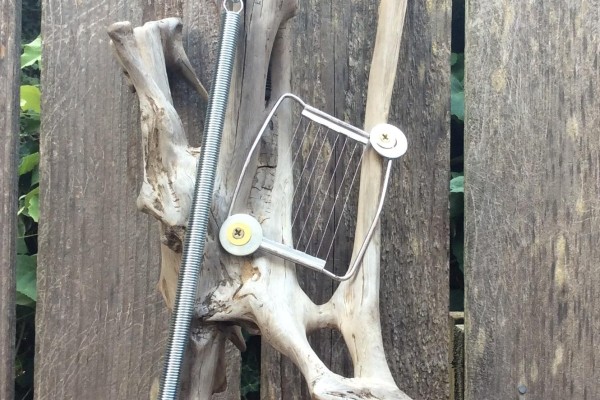 7:30 – Tempered Steel features Ffej, Frank Junk, and Dennis Rea playing amplified, electronically processed thumb pianos. The trio's seamless improvisations conjure everything from phantom harpsichords and subaquatic percussion to as yet uninvented stringed instruments and vintage musique concrète. Recommended to partisans of Harry Partch and John Cage's prepared piano music. "…a strange strain of otherworldly exotica, a metallic-insect symphony of disturbing beauty" – Dave Segal, The Stranger
8:15 p.m. – The point is not to create music, or to showcase instrument playing skills; more so it is a way to give a voice to the trees – all that they have survived to grow and exist and everything that has happened to a piece of wood before it became an object in Driftwood Orchestra. As one listens to the players struggle to find solutions to creating sound in a live improvised setting, imagine that the message could be simply: we all live and thrive together or we all suffer and die together. Driftwood Orchestra is not concerned with perfection or standards of artistic success, but in creating a way to communicate with the forest with the intent to somehow, someday apologize.
9 p.m. – Empty Boat is a quintet formed by drummer Don Berman and featuring Jim Knodle (trumpet), Dick Valentine (saxes, flutes), and for this performance, guitarists Simon Henneman and Rik Wright. Empty Boat presents original compositions by group members as well as pieces containing influences from contemporary jazz, world musics, new chamber music, and a healthy dose of improvisation. Owing to the variety of compositional concepts coming from each of these highly idiosyncratic players, an Empty Boat performance takes the listener to many different places, with sonic surprises and depth coming from the members' years of relentless dedication to their art.
Presented by Zero-G Concerts.