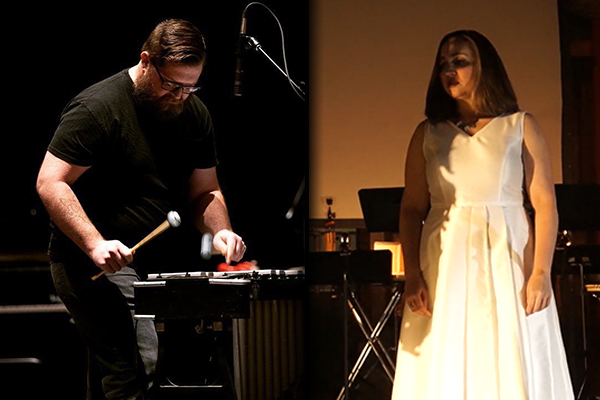 This concert marks the debut of Words Will Never, the soprano-percussion duo of Stacey Mastrian and Aaron Michael Butler. Featuring works with music by Johanna Beyer, John Cage, Morton Feldman, Lou Harrison, Stephen F. Lilly, Jean-Claude Risset, and Chris Shultis, and texts by Thomas Campion, e. e. cummings, Elsa Gidlow, James Joyce, Nathalie Michon, Carl Sandburg, and Henry David Thoreau, the program includes a world premiere, a U.S. premiere, and several Seattle premieres.
Stacey Mastrian, a "sweet, shimmering soprano" (Washington Post) who is "manifestly courageous" (Boston Globe), specializes in 20th- and 21st-century works. She has sung at venues such as the Konzerthaus and Maxim Gorki Theater (Berlin), the Kennedy Center (DC), Chapelle historique du Bon-Pasteur (Montréal), Carnegie Hall and Lincoln Center (NY), St. Peter's (Vatican City), Teatro La Fenice (Venice), and in Mexico and over half of the U.S. states, including notable collaborations with the Akros Percussion Collective, Archivio Nono, Arizona Contemporary Music Ensemble, The Bay Players Experimental Music Collective, CityMusic Cleveland Chamber Orchestra, Nova Amadeus Orchestra, Opera Lafayette, Rome Symphony Orchestra, sm2, Vocal Arts DC, and When Morty Met John. She has been a Beebe fellow and a Fulbright grantee and awarded prizes from The American Prize (Art Song), Chamber Orchestra of NY (Respighi Prize), International Joseph Traxel Society (First Laureate, Young Sponsored Lyric Artist), Shoshana Foundation (Gold Career Grant), and Vocal Arts Society (Discovery Series Winner). Recordings: NAXOS, Neuma, Stradivarius, and two titles in post-production. Dr. Mastrian has been Assistant Professor of Voice at the Sunderman Conservatory at Gettysburg College and has taught at American University, Peabody Conservatory, and University of Maryland Baltimore County and College Park; she currently maintains a private studio and gives workshops worldwide.
Aaron Michael Butler is a Seattle-based percussionist, composer, and educator. He regularly presents concerts of contemporary solo and chamber music and has been active in the creation of new works through commissioning composers of his generation. Recent performance highlights include the 2013 Athens International Film Festival, 2012/14 Percussive Arts Society International Conventions, the 2014 Ohio University World Music and Dance Festival with marimbist Pei-Ching Wu, a performance with Luciano Chessa's Orchestra of Futurist Noise Intoners in 2015, and the 2016 Nelsonville Music Festival. In 2010 Aaron founded the NOBROW.collective; in conjunction with the Athens International Film Festival NOBROW has commissioned Deep Earth – a large-scale, multimedia work – from composer Matthew Burtner which was premiered in April 2014. Aaron holds degrees in percussion performance from Ohio University and Centenary College of Louisiana where he studied with Roger Braun, Guy Remonko and Chan Teague. He is currently a doctoral student at UW and recently performed with the Harry Partch Ensemble.