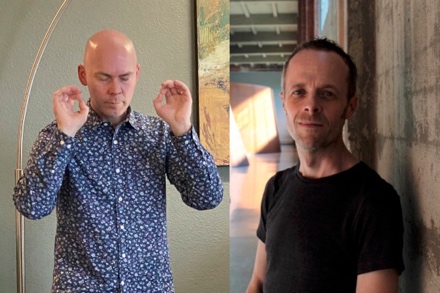 Christian Pincock is a trombonist, composer and educator who creates and works with a wide range of music and visual art. With a firm background in jazz performance and composition, he performs original music on trombone, on electronic instruments of his own creation, and through conducted improvisation. In addition to over a decade of private teaching experience, Christian has taught and directed bands, classes and workshops at colleges, universities, public schools and arts organizations across the United States.
John O'Brien began his journey in music after receiving a set of drums as a gift from his grandfather. Since 1998, he has been active as a New York City-based drummer and percussionist, composer of small ensemble and concert works, and improviser leading and participating in a multitude of musical projects.
This collection of improvisations between Christian Pincock (valve trombone & pedal-controlled synth) and John O' Brien (drum set) was made over the distance of 2,400 miles between Seattle and Brooklyn. JackTrip, a free protocol for sending high-quality audio over the internet with reduced latency was used to make this possible. The delay we experienced was still about 80-100ms so we had to adjust our playing to make music that would work in this situation. These pieces were selected from 2 sessions of improvised music with light to no preconceived structure in June 2020, mixed and lightly edited.
With the Chapel closed indefinitely due to the COVID-19 pandemic, the Wayward Music Series moves from the concert hall to the living room. In place of our usual ten monthly concerts, Nonsequitur is commissioning ten Seattle artists each month to create a series of streaming audio sessions of previously unreleased material.