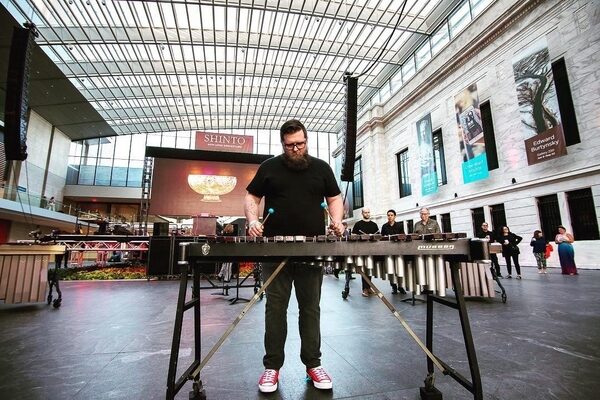 Local experimental percussionist Aaron Michael Butler presents a concert of premieres for resonant metal instruments and electronics by Elizabeth A. Baker, Justin Greene, and Matt Sargent. 

Elizabeth A. Baker's new work for vibraphone and electronics utilizes paintings created by the composer in multiple ways: one is amplified to capture the vibraphone's sound for processing as well as sounds made on it directly, and one is used as a backdrop for projection of a video score that is interpreted by the performer. 

Matt Sargent's work explores chime harmonics through spectral analysis and mapping those frequencies onto two octaves of crotales to highlight the internal resonances of the tubular bells. 

Justin Greene's work also focuses on chime harmonics, but unlike in Sargent's work, the performer draws them out through manipulation of nodal points along the instruments. 
COVID-19 PROTOCOLS: For the safety of all present, audience members are required to wear a mask covering nose and mouth.