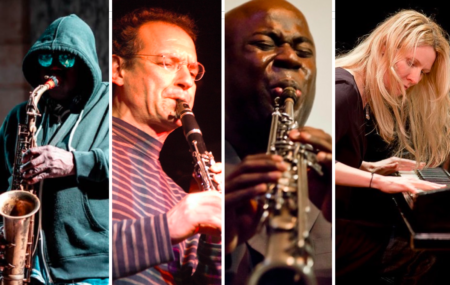 Originally scheduled for March 2020, the 35th annual Seattle Improvised Music Festival rises from the ashes of COVID-19 in the form of two streaming video programs on September 27 and October 4.
STREAM TONIGHT'S CONCERT HERE AT 5 PM PACIFIC TIME!
This first night is presented as part of Baltimore's venerable High Zero Festival (Sept. 24 – 27), with each program co-curated by a presenter in a different city: Elastic Arts (Chicago, 9/24), High Mayhem (Santa Fe, 9/25), High Zero (Baltimore, 9/26), and SIMF (9/27).
SIMF curators Haley Freedlund, Chris Icasiano, and Steve Peters have invited four esteemed visiting artists – clarinetist Ben Goldberg (Berkeley), New York saxophonists Joe McPhee and Sam Newsome, pianist Dana Reason (Corvallis) – to perform featured solo sets, and a small but mighty sampling of Seattle artists representing several generations and a wide range of musical activity.
Presented by Nonsequitur, with generous assistance from 4Culture and the Raynier Institute & Foundation. We are especially grateful to the Royal Room for providing a venue in which to record our video programs.
Soloists:
Allison Clendaniel, voice (Baltimore)
Marina Albero, piano (Seattle)
Ensemble:
Jim Knodle, trumpet
Casey Adams, percussion
Heather Bentley, viola
Evan Woodle, drums
Jenny Ziefel, clarinets
Video + Sound:
Dana Reason, piano (Corvallis)
Melody Owen, video (Portland/Sydney)