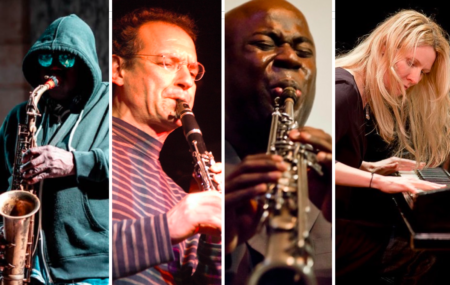 Originally scheduled for March 2020, the 35th annual Seattle Improvised Music Festival rises from the ashes of COVID-19 in the form of two streaming video programs on September 27 and October 4.
STREAM TONIGHT'S CONCERT HERE AT 7 PM PACIFIC TIME!
Esteemed visiting artists – clarinetist Ben Goldberg (Berkeley), New York saxophonists Joe McPhee and Sam Newsome – perform featured solo sets, mixed with a small but mighty sampling of Seattle artists representing several generations and a wide range of musical activity.
Presented by Nonsequitur, with generous assistance from 4Culture and the Raynier Institute & Foundation. We are especially grateful to the Royal Room for providing a venue in which to record our video programs.
• Ben Goldberg, clarinet (Berkeley)
• Galin Hebert, drums; Laurel Evers, clarinet
• Sam Newsome, saxophones (Brooklyn)
• Thomas Campbell, drums; Dick Valentine, flutes, sax; Tamara Zenobia, voice
• Joe McPhee, sax (Poughkeepsie)