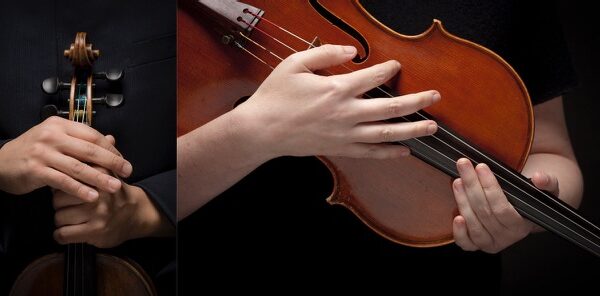 Hailed by Gramophone as "an artist of commanding and poetic personality" and described as "staggeringly virtuosic" by The Strad, violist/composer Melia Watras has distinguished herself as one of her instrument's leading voices. Watras has helped expand the viola repertoire through composing, commissioning, and debuting new works. Compositions written for Watras include Shulamit Ran's solo viola piece "Perfect Storm," duos by Garth Knox and Cuong Vu, and a viola concerto by Richard Karpen, which Watras premiered with conductor Ludovic Morlot and the Seattle Symphony. As a composer, her works have been performed throughout the United States and in Europe. Her music has been heard on National Public Radio's Performance Today and can be found on Planet M Records and Sono Luminus. She is currently Professor of Viola at the University of Washington School of Music.
Violinist Michael Jinsoo Lim has been praised by Gramophone for playing with "delicious abandon," and lauded by the Los Angeles Times as a "conspicuously accomplished champion of contemporary music." Concertmaster and solo violinist for the internationally acclaimed Pacific Northwest Ballet, Lim is featured as soloist with the company in concertos by Stravinsky, Prokofiev, Bach and others, and has toured with PNB to Paris and New York City. For two decades, Lim toured with the Corigliano Quartet, a group he co-founded and with whom he appears on over a dozen albums. Among the final pupils of the legendary Josef Gingold at Indiana University, Lim has served on the faculty of the Banff Centre, taught at Indiana University as a guest professor, and currently serves on the faculty of Cornish College of the Arts.
Melia Watras's The almond tree duos is a collection of works for violin and viola, or for two violas. The title references the symbol of hope and new beginnings in Oscar Wilde's The Canterville Ghost. In this concert, Michael and Melia perform 12 pieces from this series in the beautiful Chapel at the Good Shepherd Center.
(photo: Michelle Smith-Lewis)
(00:00) The almond tree
(02:32) Ancient memory
(07:48) Cirque à cordes
(13:43) The almond tree 2
(15:56) Nothing to prove
(18:00) Vex
(19:43) Perlucere
(22:21) The almond tree 3
(23:46) An orca, a nuthatch and a cat walk into a bar…
(30:56) Dahlia
(35:40) The almond tree 4
(38:38) Amaranth
With the Chapel closed indefinitely due to the COVID-19 pandemic, the Wayward Music Series moves from the concert hall to the living room. In place of our usual ten monthly concerts, Nonsequitur is commissioning ten Seattle artists each month to create a series of streaming audio sessions of previously unreleased material.