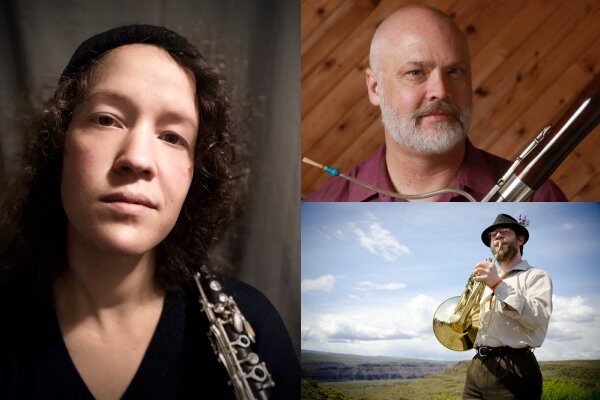 Seattle-based composer and clarinetist Angelique Poteat has had her music hailed by the New York Times as "engaging, restless." In addition to being principal clarinetist with the Yakima Symphony, she also performs regularly with the Seattle Modern Orchestra and the Saratoga Orchestra, among others. She is currently the Director of the Seattle Symphony's Merriman Family Young Composers Workshop.
In this recording, Angelique is joined by Ryan Hare on bassoon and Josiah Boothby on horn, together performing as the trio Artemisia Winds to present a program of original compositions by members of the trio. The pieces cover a broad range of influences, from popular music in some of Angelique's works, to neo-Romanticism in Ryan's "Harkening," and guided improvisation in Josiah's "Sound, Flight, Touch." This concert is recorded in the acoustically gratifying Chapel Performance Space at the Good Shepherd.
(0:00) – Melisma by Angelique Poteat
(6:18) – Sound, Flight, Touch by Josiah Boothby
(14:22) – Under the Sun by Angelique Poteat
(22:23) – Tales for Three by Ryan Hare
(31:22) – Harkening by Ryan Hare
(36:54) – You Are Home by Angelique Poteat
With the Chapel closed indefinitely due to the COVID-19 pandemic, the Wayward Music Series moves from the concert hall to the living room. In place of our usual ten monthly concerts, Nonsequitur is commissioning ten Seattle artists each month to create a series of streaming audio sessions of previously unreleased material.