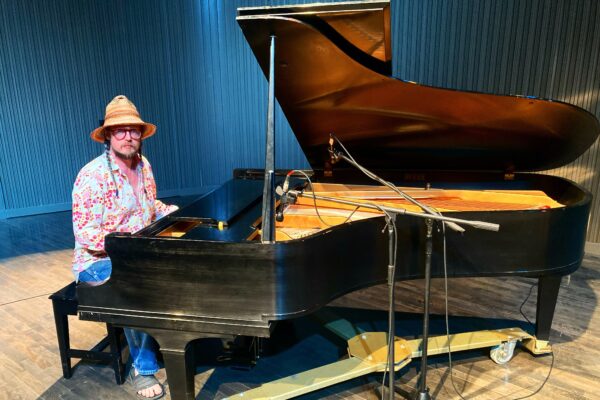 Arrington de Dionyso integrates ancient soundmaking techniques with trans-modernist inquiries into the nature of consciousness. His propulsive improvisations utilize voice and reeds (primarily bass clarinets and his invention the Bromiophone) as multiphonic tools in the navigation of liminal spaces between shamanic seance and rock and roll ecstasy. Tonight his chosen vehicle will be solo piano improvisation.
Piano was actually the first musical instrument I ever played. At three years old I would sneak up to it after church and pound the keys until a responsible adult would remove me from the holy milieu. Maybe they only heard a child making noise, but I could hear rich symphonies of dancing dragons, rain storms, circus performers and talking trees. For a short time I was "forced" to take lessons which I hated, because it was mind numbingly boring and only about learning the names of notes on the paper, not about unleashing torrents of ecstatic, all-consuming sheets of sound with the massive power of 88 tuned drums.
I stepped away from the instrument for years as I sought to create music that represented a total rejection of everything I associated with the norms of "Western Civilization" and the piano by virtue of fixed intonation became Enemy Number One, representing the epitome of the oppression I sought to tear down. The spacing and division of the notes the way they are on a piano isn't "natural" in terms of creating purely intuitive music, and there is a structure determined by the instrument itself that is impossible to completely break away from without significantly altering the instrument itself.
Of course at the same time maybe that is all total nonsense: I've had countless life-changing experiences listening to and sometimes even playing with some of the greatest pianists alive, who seem to effortlessly imbue this instrument of "Saturnine structure" with life-affirming creativity and imagination. I gradually came to appreciate the LIMITATIONS of the piano forte, discovering that at least in some hands it had a massive potential for delivering the listener into higher realms of boundless wonder and emotional catharsis. Total freedom? My idea of what that means is always evolving, I sometimes feel immense musical freedom inside the states induced through repetition of deceptively simple motifs that shift one direction gradually, another direction quite suddenly. 
In my "Piano Trance Concerts" (examples here and here) I attempt to work with the limitations of the instrument (no special avant-garde "preparations") as well as my own limitations in ability to play it. I touch the piano as a life-force conductor and conjure up some Hoodoo that hearkens a little bit to Stravinsky and Don Van Vliet, along with all those ancient tilting planets of blues, jazz, classical, post-classical and the far-flung moons of post-free 60's minimalist potentialities… I also bring in the rich years of experience that delivered me to the center of the horse-trance dances of East Java, the blaring pipes and pounding drums of Jajouka, down the raspy throats of the fire-breathing shamans of Tuva… like those famous mycelial threads on the forest floor, structures are built by connecting points between fragile cells, sometimes falling apart, sometimes changing directions, sometimes making a mess and picking up the blood-stained pieces out of the mud.