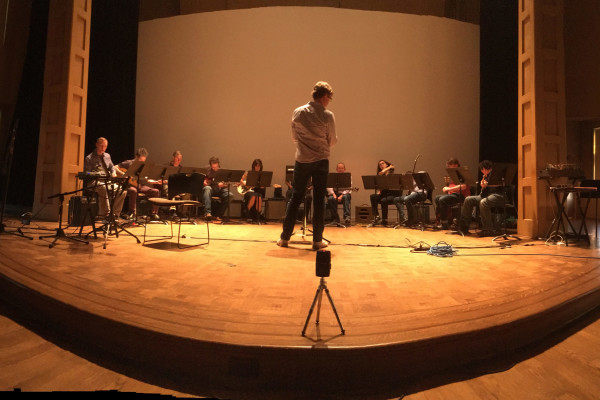 Composer/guitarist Ben McAllister debuts his new group The Guitar Cult, Evan Flory-Barnes brings original songs with chamber ensemble vibes, and Bill Horist brings the inimitable Bill Horist guitar experience.
The global devastation and human misery wrought by the lack of solid guitar worshipping and noisemaking activities – to say nothing of natural and man-made disasters – is unmistakable. They threaten to rip the social fabric to shreds and in many parts of the world these societal ills have already caused irreparable damage. What is conspicuously lacking in combating these virtually apocalyptic scenarios are effective solutions. To that end, in the course of his decades of research into the mind and spirit, Ben McAllister developed methods by which to address the crises that threaten our world. To bring those solutions to bear, the Seattle center of the Cult has been established to act as a "picking temple." The result: the Guitar Cult's revolutionary social betterment and humanitarian programs, reflected in live performances and recorded form. They are utterly unique, indisputably cutting edge and most importantly—effective.
Seattle guitarist Bill Horist has established himself as an internationally known improviser/composer/performer in a wide array of genres including rock, jazz, contemporary chamber, avant garde, folk, new music and several subgenres within each. He has appeared on over 70 recordings and has performed well over 1000 concerts throughout North and Central America, Europe, and Japan. Over the past two decades, Bill has collaborated with a long list of notable musicians from around the world. He has toured and recorded with a number of bands including Master Musicians of Bukkake, Nobodaddy, Phineas Gage, Axolotl, UnFolkUs, Zahir, Tablet, Nervewheel, Ghidra, Rollerball and the Paul Rucker Ensemble in addition to extensive solo activity.
Mandalas | The Guitar Cult | May 26, 2017 from listen faster on Vimeo.