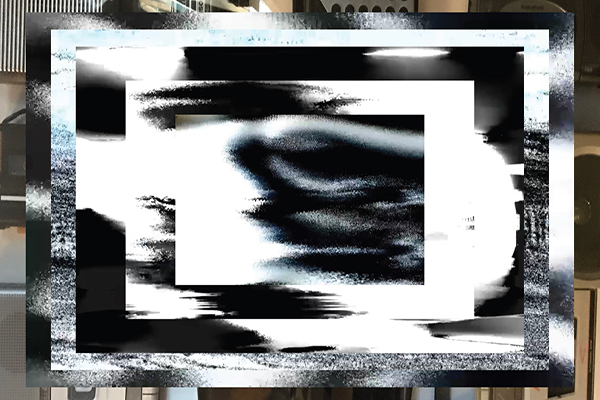 it·er·a·tion
/ˌidəˈrāSH(ə)n/
noun
noun: iteration
the repetition of a process or utterance.
repetition of a mathematical or computational procedure applied to the result of a previous application, typically as a means of obtaining successively closer approximations to the solution of a problem.
a new version of a piece of computer hardware or software.
plural noun: iterations
As in math, or computer programming, the concept of iteration is used to express the different versions/steps of an algorithmic process, in the arts it represents an intrinsic characteristic of research methodology. Artists iterate techniques, tools, technologies and forms to create, experiment with and refine concepts, to explore narratives, ask questions and structure collective experiences. In this context, the Research Studio at DXARTS (Center for Digital Arts and Experimental Media) at the University of Washington focused on the field of live performance as an iterative technique for PhD students to present their work. The works that will be presented at the Chapel include error-prone improvisational experiments, ritualistic and meditative compositions, contemporary dance with diy electronics, and an archival mosaic of the story behind the Good Shepherd Center.
Participants: Riah Buchanan, Chanee Choi, Cameron Fraser, R.M-TNKRT, Breana Tavaglione and Rihards Vitols.
Organized by the Center for Digital Arts & Experimental Media (DXARTS) at the University of Washington.
An evening of performative experiments by DXARTS PhD students: Riah Buchanan, Chanee Choi w/ Sarah Lisette Chiesa, Cameron Fraser, R.M-TNKRT, Breana Tavaglione and Rihards Vitols. Organized by the Center for Digital Arts & Experimental Media (DXARTS) at the University of Washington.
Works:
Riah Buchanan & Sarah-Jane Vavrin: A Mother is a Clock – Pre-recorded audio from The Good Shepherd Oral History Project, originally collected by archivist Toby G Harris in 1999, including interviews from nuns and girls residing at the Catholic home in the 1950s. Live performance by soprano Sarah-Jane Vavrin of Cornish College of the Arts, who will sing Ave Maris Stella.
Cameron Fraser & Rihards Vitols: The kitten is scratching me – Live performance with synthesized video projection, resonant objects, cassette players and feedback circuits.
Chanee Choi & Sarah Lisette Chiesa, sound by Cameron Fraser: Polaris – Contemporary dance performance with interactive wearables and embedded LEDs.
Breana Tavaglione: Lineage 1 – An audible family tree read by Tavaglione, featuring field recordings and audio interviews with her paternal grandfather and maternal grandmother.
R.M-TNKRT: The Conscious Rhythm Of Her Dream: A Puerto Rican Eulogy – Glitched vocal & piano performance.
A few words about the participants:
Riah Buchanan is a graphic designer currently researching the dissemination of official government images and documents through the lens of speculative design. She is interested in the aesthetics of digital networks that modify and respond to the physical landscape.
Chanee Choi is a multidisciplinary interactive artist. Her artwork combines Korean traditional crafts and new media forming a hybrid genre focused on immersive experiences.
Sarah Lisette Chiesa is an American-born, Seattle-based multimedia and contemporary dance artist. She teaches as a pre-doctoral lecturer and dances with Chamber Dance Company.
Cameron Fraser composes music for unique acoustic/electric hybrid instruments, sculptures and installations. His work employs indeterminate strategies, ecoacoustic methods and feedback systems.
R.M-TNKRT is a Puerto Rican artist whose audiovisual voice illustrates the psychosomatic space between the real and the dream. She sees identity as a spectrum in-flux and has adopted the pseudonym R.M-TNKRT to suggest this paradox. By using strategies of chance to push the boundaries of the self, she explores fractured bodies, dual identity, glitch theory, & new media aesthetics in sound, photo, & video.
Breana Tavaglione is a composer and sound artist from Riverside, California, whose primary musical interest is experimenting with sound, often via field recordings and improvisation. Her work consists of recordings, installations, and live performances which explore the intersections of language, fairy tales, feminism, relation to place, and decolonization.
Sarah-Jane Vavrin is a soprano who recently received her Bachelors of Music from Cornish College of the Arts studying under the direction of Dr. Natalie Lerch. Sarah-Jane's performances include: … (ellipsis) by Kyle Morrow, A Performance of Myself by Nicholas Mackelprang, and The Three Crowns by Caleb Sapa, The Spring and the Fall, and Faure's Requiem conducted by Richard Ross.
Since 2011 Rihards Vitols has been working with sound artists providing them with visual element for their live performances. He likes to imagine sound in graphical elements that changes over the time and interacts with audio. Now and then he provides sound artists with fixed time media for their sound pieces.