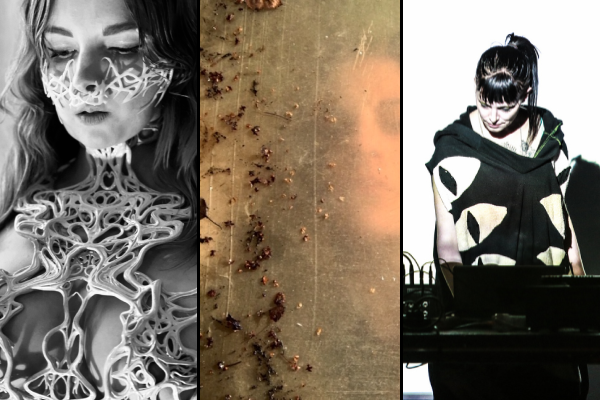 An evening of intimate experimental electronics.
Blevin Blectum (born Bevin Kelley) has been called a "celebrated icon of deviant and cerebral electronic music". Often observed in the wild, far and wide, alongside fellow laptop/hokeypoker/snaustamer Kristin Erickson (aka Kevin Blechdom) in psychedelic combination as Blectum from Blechdom. She currently resides in Seattle, and has recently released Deep Bone (Blectum from Blechdom, on the Deathbomb Arc label), Anti-Ark (SAGAN aka Blevin + Lesser + Wobbly, on Broken Clover), and All Day I Dream About Singularity (as solo-alter-ego Synopterus on the Parisian label Darling Dada).
Since 2016, Los Angeles-based multimedia artist, Cruel Diagonals (aka Megan Mitchell), has been creating critically acclaimed experimental electronic music and intriguing visuals. Harnessing her background and training as a classical and jazz vocalist, she possesses an instinctual adventurousness and an acute sense of the most chilling and moving atmospheres and timbres, favoring fluidity of tones over the grid-like modes of much electronic music. Marked by a grave ethereality, releases such as Pulse Of Indignation (2018), Monolithic Nuance (2018), and A Dormant Vigor (2021) feature beautiful singing amid discordant, sinister electronics.
Dialing In is comprised of one Reita Piecuch, one turntable, some tape loops, and a whole lot of etcetera. She started recording in 2002 with several releases over the years on New Zealand labels such as Celebrate Psi Phenomenon and Pseudo Arcana and with various collaborators such as Herb Diamante and Campbell Kneale. She still records on the same Tascam cassette four track that provides its own analog distortion by way of dust and grime. Dialing In does not play that many shows, and doesn't play any piece more than one time, so you'll never hear the same thing twice. She is going to attempt to play this show without excessive volume.
COVID-19 PROTOCOLS: All audience members will be required to wear a mask covering nose and mouth. Windows will be open, weather permitting.