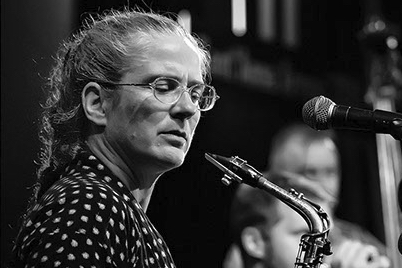 Originally from Seattle, Caroline Kraabel is a London-based improviser, saxophonist, artist and composer. She conducts and plays with the London Improvisers Orchestra (LIO). Sometimes she improvises solo while walking in London and elsewhere (broadcast over several years on Resonance
104.4 FM as Taking a Life for a Walk and Going Outside). She releases ephemeral solo pieces as part of Lonely Impulse Collective and works with many other excellent improvisers, including Robert Wyatt, Maggie Nicols, John Edwards, Louis Moholo, Cleveland Watkiss, Hyelim Kim, Pat Thomas, Susan Alcorn, Sarah Washington, and Charlotte Hug.

During 2020-21 Kraabel performed live (off- and on-line) and while walking through London; made and shared many recordings of duo and solo live improvisation; made a piece of performance art for APT Gallery; created a number of socially distanced large-group pieces for the LIO; was artist-in-residence at UNCOOL in Poschiavo, Switzerland; and worked on her 40-minute music/film piece about lockdown London (London 26 and 28 March 2020: imitation: inversion), which received its avant-première at London's Café Oto on 25 February 2021, is available on the Jazzed app, and won the 2021 Ivor Award for Sound Art Composer.
Tonight she'll perform a solo set, followed by a set of conducted improvisation with an ensemble of local improvisers: Abbey Blackwell, bass; Haley Freedlund, trombone; Kayce Guthmiller, viola; Leanna Keith, flutes; Susie Kozawa, objects/homemades; Carol Levin, harp; Ebony Miranda, cello; Kate Olson, soprano sax.
Presented by Nonsequitur. (Photo: Giuseppe Tamponi)
Caroline Kraabel will also be performing at Cafe Racer for the Racer Sessions on April 10.
COVID-19 PROTOCOLS: For the safety of all present, audience members are asked to show proof of vaccination and wear masks covering nose and mouth.