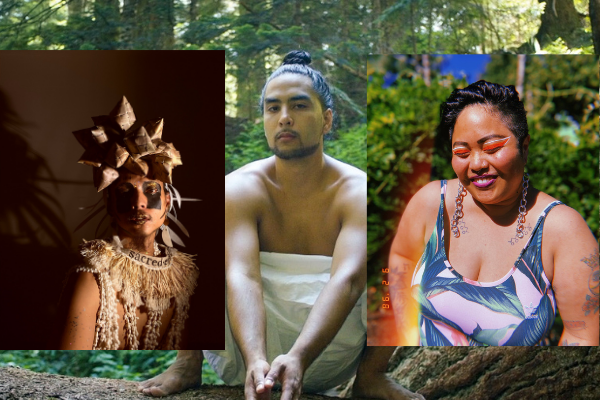 Láthalom Gi Matan Guma'! Welcome to the Face of the House

MALI'E' is a Matao-CHamoru performance research project re(k)newing the spirit of embodied musicality as oral history and prophecy. Three locally-based Matao-CHamoru multi-disciplinary artists – roldy aguero ablao, Lourdez Puti'on Velasco, and Dakota Camacho – explore new expressions of the ancestral practice of exchanging memorized and improvisatory verses called MALI'E' and kantan chamorrita, sharing an insight into the MALI'E' creative process through a multi-disciplinary ritual activation, improvisatory verses, chant compositions, and sonic choreographies.

The artist-researchers are blessed to be working working with a steward of fino' håya, Jeremy Cepeda, who has provided his original chant compositions as guiding material for sonic choreographies that tell the artists' family stories. Cepeda has spent years under guidance by his mañaina (elders) in his family and wider community, while also conducting his own personal research into the language. He has composed a series of original chants that contain teachings from his elders and the findings of his research.
Dakota Camacho is a multi-disciplinary artist / researcher working in spaces of indigenous life ways, performance, musical composition, community engagement, and education. Camacho holds a Masters of Arts in Performance Studies from Tisch School of the Arts at New York University, and graduated from the University of Wisconsin-Madison with a Bachelor of Arts in Gender & Women's Studies as a First Wave Urban Arts and Hip Hop Scholar. Camacho is a chanter, adjunct instructor, and core researcher for I Fanlalai'an Oral History Project based at the University of Guåhan.
​Camacho co-founded I Moving Lab, an inter-national, inter-cultural, inter-tribal, and inter-disciplinary arts collective that creates community and self-funded arts initiatives to engage and bring together rural & urban communities, universities, museums, & performing arts institutions. Camacho has worked at festivals, universities, and community organizations as a public speaker, facilitator, composer and performer across Turtle Island (USA), Aotearoa (New Zealand), Australia, Sweden, and South Africa.
Curated by Leanna Keith for Nonsequitur's NonSeq series.
COVID-19 PROTOCOLS: For the safety of performers and audience, all audience members will be required to show proof of vaccination and wear masks covering nose and mouth.