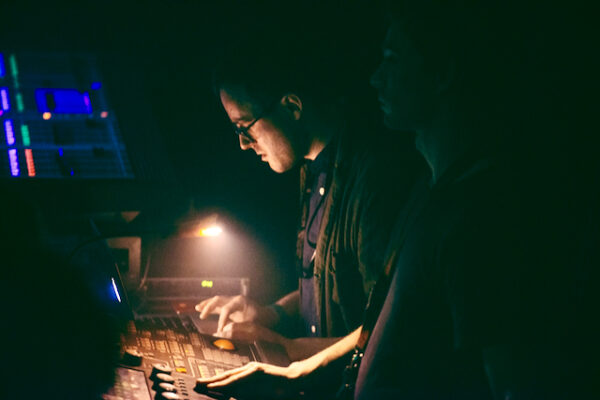 Workshop + Concert: $15 (Register for workshop)
Concert only: $5 – $15 sliding scale
WORKSHOP (6 PM): Compositional Work with the New Pulsar Generator (nuPG)
The focus of the workshop is composition with a digital audio technique called pulsar synthesis and its instrumental incarnation the New Pulsar Generator (nuPG). The nuPG program is a standalone (Mac OS) application implemented in SuperCollider 3 programming language that incorporates a graphic as well text-based (live-coding) control over synthesis parameters. After introducing a brief historical and technical context of the technique of pulsar synthesis, the central theme of the workshop will be the compositional application of the New Pulsar Generator and its various extensions. We will look at the structure and function of essential elements of the program (pulsars, envelopes and sequences) and their combination, as well as extended compositional methods (e.g., Xenakian sieves, parameter modulation, LPC and Wavelet based cross-synthesis with other sound sources).
The participants will get a copy of the software with the documentation to install on their machines (Mac OS 12.14 or earlier only).

CONCERT (8:30 PM sharp): A solo set by Marcin Pietruszewski featuring work using the New Pulsar Generator application, with a short opening set by RM Francis who will present two sections from AToGRNN Prism, a multichannel work featuring 45 MIR-based machine-listening agents voicing divergent interpretations of a single sonic event..
Marcin Pietruszewski (born 1984) is a composer and researcher engaged in sound synthesis and composition with computers, exploring specific formal developments in the tradition of electroacoustic music and contemporary sound art, as well as extra-musical domains of auditory design, computational linguistics and psychoacoustics. He works across performance, multimedia installation and radio productions probing the dynamics between formalism of synthetic sound and its material realisation. He has collaborated extensively with musicians and composers — e.g., Jan St. Werner, Florian Hecker, Marcus Schmickler, Tristan Clutterbuck, Jules Rawlinson and Lauren Sarah Hayes — as well as graphic design company NORM, philosopher Chris Schambaugh, choreographer/dancer Agnes Cebere, and the Laboria Cubonics Collective.
RM Francis is an artist working with computer-generated sound in Seattle. His work has been released on ETAT, Conditional, and CO-DEPENDENT, among other labels; his most recent release, Every Single Person Has Some Muscle, for six synthetic voices, was released on FLEA. He is also a member of the collective/label $ pwgen 20.