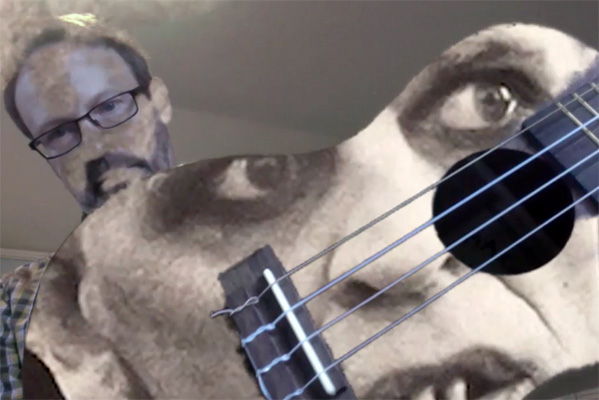 Portland-based composer Brian Fergus merges the ukulele with electronics, presenting his solo arrangements of soundtrack music written by the German composer Florian Fricke for the Werner Herzog films Aguirre, the Wrath of God (1972), Heart of Glass (1976), and Nosferatu the Vampyre (1979).
Seattle electronic music veteran Rob Angus will perform his own compositions for Mirage sampling keyboards, loopers, and digital processing.
Brian Fergus is a lifetime musician and music educator. He earned his Masters Degree in Electronic Music composition in the 1980s at Mills College, where he studied with David Rosenboom and Anthony Braxton, and took classes with Lou Harrison, David Tudor, Conlon Nancarrow and Fred Frith. Fergus is professor emeritus of City College of San Francisco, where he taught Electronic Music, Composition, and Music Theory for more than twenty five years. In 2014, stepping down from his job at CCSF to move to Portland, Oregon, he opened Woodstock Ukulele Studio, a venue for rehearsal, recording, and private and group instruction. Brian's book of arrangements of classical and traditional music for ukulele solo and duet, Ukulele Adventures, was published by Empire Music in 2018.
Rob Angus studied electronic music at the Boston School of Electronic Music, and music composition and film at Penn State, where he met Brian. He has performed in improvising duos and trios, bands, performance pieces and dance pieces, in clubs, festivals, galleries and museums.
COVID-19 PROTOCOLS: Masks are optional for this event.