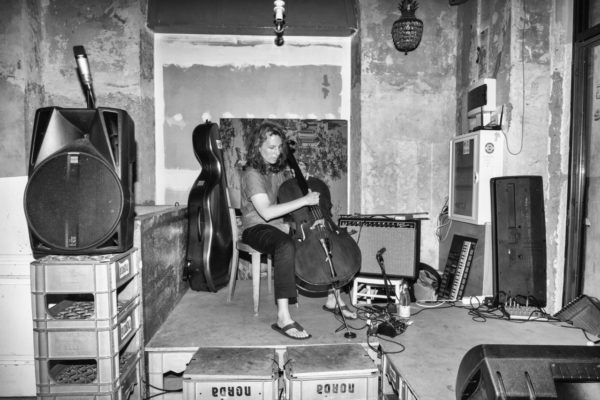 Lori Goldston and percussionist Dave Abramson perform new and improvised solos and duos.
Lori Goldston has performed prolifically throughout the Pacific Northwest for decades, and tours throughout the US, Mexico, Canada, Australia and Europe. Her work is emotionally charged and nuanced, drawing connections between far-flung idioms, and exploring timbral thresholds of her instrument. She collaborates with a wide range of composers, actors, film makers, bands, writers and choreographers, including Earth, Nirvana, Jessika Kenney, Eyvind Kang, Mark Mitchell, Duane Linklater, Stuart Dempster, Vanessa Renwick, Lynn Shelton, Embryo, Jim Fletcher, Lonnie Holley, Steve Von Till, Ellen Fullman, Mirah, and many, many more.
Dave Abramson is a drummer and percussionist. He grew up playing in the hardcore and metal scene on the east coast and studied visual arts in upstate New York, where he began to play improvised and experimental music. Since moving to Seattle in 2002 he has recorded, performed and/or toured with folks such as Eyvind Kang, Secret Chiefs 3, Wayne Horvitz, Climax Golden Twins, Lori Goldston, Paul Hoskin, Wally Shoup, Greg Kelley, Boredoms, etc. Abramson is a member of the bands Master Musicians of Bukkake, Diminished Men, Spider Trio, Telescoping, and has composed music for the Maureen Whiting Dance company since 2004. He has toured throughout the U.S., Europe and Canada and can be heard on albums released by Tzadik, Sub Pop, Drag City, Abduction, Conspiracy, Web of Mimicry, and Important Records.
COVID-19 PROTOCOLS: For the safety of all, please wear a mask covering nose and mouth to this event.