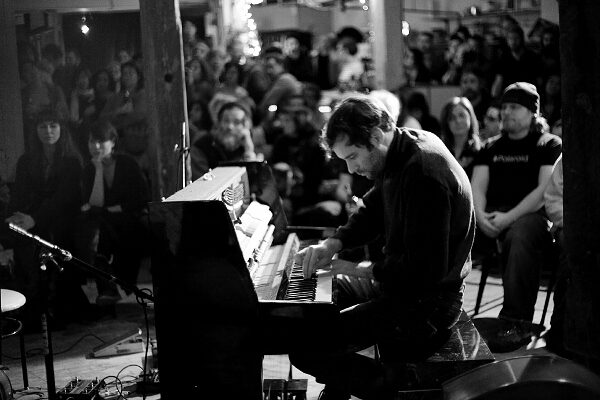 For this concert Stefan Christoff and Lori Goldston will build on their improvised duet exchanges that have been in exploration since 2017. The Punk Equinox duet album, with Lori on cello and Stefan on organ was released to critical acclaim on the Thessaloniki based label DASA Tapes. This album was highlighted on the Adventures In Sound And Music program of Wire magazine in winter 2023. In fall 2022 Lori and Stefan recorded a second duet album of cello and piano duets in Brooklyn that will be released in 2024. Christopher Icasiano will play solo drum set. Join us for an intimate and beautiful musical exchange in Seattle.
Stefan Spirodon Christoff is a pianist, media maker, community activist and artist living in Montréal. Stefan hosts Free City Radio, broadcasting weekly on CKUT 90.3FM, CJLO 1690 AM, CKUW 95.9FM in Winnipeg, CFRC 101.9FM in Kingston, Ontario, CFUV 101.9FM in Victoria, BC and shared globally as a podcast (Spotify + Apple Podcasts). Stefan coordinates Musicians for Palestine and makes music with many people globally, including Rêves sonores, Sam Shalabi, Lori Goldston, Adriana Camancho, and Anarchist Mountains. Stefan is on the board of the Immigrant Workers Centre in Côte-Des-Neiges and works with Cinema Politica Network. Stefan is working with the Social Justice Centre and is also a history student at Concordia University.
Lori Goldston is a cellist and composer from Seattle. Her voice as a cellist draws connections between far-flung approaches and explores timbral thresholds of her instrument, driven by a restless curiosity and informed by a long, widely varied history of collaborations with bands, ensembles large and small, composers, film makers and choreographers. She performs throughout the US and abroad, and has released recordings on Sub Rosa, Woodland Fauna, Marginal Frequency, Yo Yo, K Records, Second Editions, Sub Pop, Mississippi, Eiderdown, Substrata, State 51, Ed Banger, Full Spectrum, PIAPTK, SofaBurn, Broken Clover, and No Sun.
Christopher Icasiano is a Filipino-American percussionist and composer from Redmond, WA. Based now in Seattle, he has been performing and touring professionally for over 15 years. His specialization in free-improvisation and experimental music combined with his vast with pop and rock have made him a highly sought after collaborator in all genres of music. He co-founded the grassroots arts organization Table & Chairs, as well as the Racer Sessions, a weekly performance series and free-improvisation jam session. He is committed to anti-racist and anti-sexist organizing within Seattle's DIY and art communities in order to create more accessible and safer spaces. He is a member of Pure Bathing Culture, Bad Luck and Fleet Foxes.