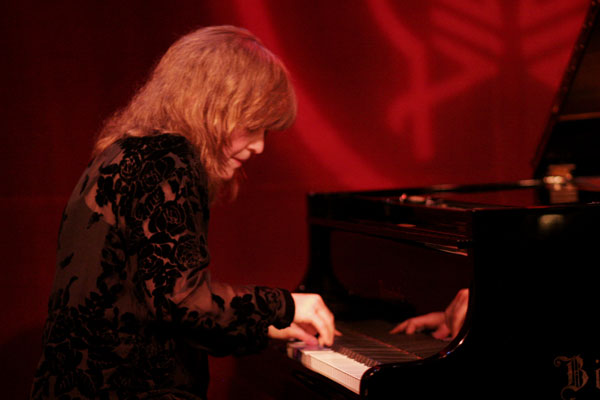 Avalanches of chords, earthquakes of hits and rolls, tsunamis of pizzicato plucks: these are the warp and woof of the improvisational trio Dreamstruck, featuring pianist Marilyn Crispell, bassist Joe Fonda, and drummer Harvey Sorgen.
Veterans orbiting the cosmos of the experimental scene, the three bring "a broad spectrum of moods and color" from their instruments, released on their self-titled debut this year. All About Jazz calls it a "distinctive and fascinating interplay that explores the contours of romance, blues, free playing, and abstraction."
Exploring the repertoire of players like Paul Motian and guitarist Bob Windbiel, Dreamstruck recombines the codes of musical genes spread across a spectrum of velocity, impact, and delay. Sorgen is a cunning timekeeper with a big heart. An educator and recipient of multiple grants, he's played and recorded with the likes of Ahmad Jamal, Dewey Redman, Dave Douglas, and others.
Sorgen has long cultivated his interplay with Joe Fonda, a primary member of Anthony Braxton's iconic groups from 1984-1999. Fonda, a student of the Berklee College of Music, is a commissioned composer whose creative focus has been paired most recently with Barry Altschul and Jon Irabagon in the trio 3dom Factor; with reedman Gebhard Ullmann in his supergroup Conference Call; and in his own groups, including the Off Road Quartet.
Crispell remains "one of the very few pianists who rise to the challenge of free jazz," (New York Times). In a career that boasts six ECM albums, she has been an integral part of Reggie Workman's group and has played with Henry Grimes, Anders Jormin, Wadada Leo Smith, Roscoe Mitchell, and others. As of recent she has expanded her bluesy sound-world with Tyshawn Sorey, and in Trio Tapestry, with saxophonist Joe Lovano, and drummer Carmen Castaldi.
Presented by Earshot Jazz Festival.