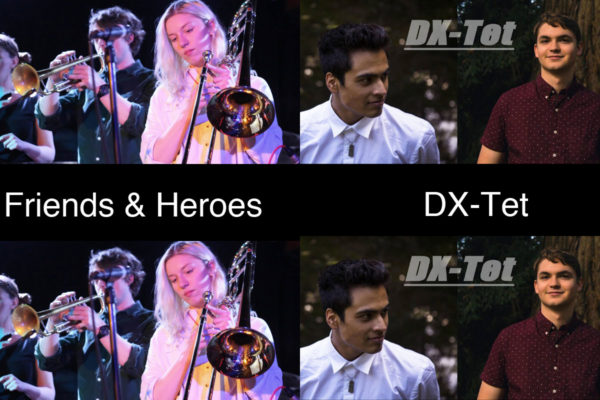 Earshot's annual juried series, Jazz: The Second Century, returns with three evenings of innovative music. Artists are selected by a peer panel through a blind jury process to perform original work in a concert setting that is questioning and expanding the conventions of the jazz form. This year's choices reflect our city's current dialogue surrounding the art form, in all its nuances and subtleties.
Friends & Heroes
Haley Freedlund is a musician rooted in improvisation and a composer rooted in songwriting. In a musical landscape that she describes as "often dominated by a mix of athleticism, machismo, and perfectionism," her take on jazz offers something more tender. Her narrative output takes the shape of longer melodic ideas, repetition, and thematic composing. Freedlund's music is like the first stretch of morning, limbs reaching, eyes open to the light of a new day. Friends & Heroes is comprised of mainstays of Seattle's creative improvised music scene: Haley Freedlund, trombone; James Falzone, clarinet; Tom Varner, French horn; Abbey Blackwell, acoustic bass; Evan Woodle, drums.
DX-Tet
Recent Cornish College of the Arts graduate Dylan Hayes has been gaining momentum as a sought-after pianist, composer, and bandleader. Notably, Hayes recently took the reins of the Jim Knapp Orchestra. "My compositions are brought to life through arrangements and I enjoy arranging for all of the various instruments, which is why I am drawn to writing for larger ensemble's such as big band or octet," says Hayes. His octet, DX-tet, is co-led by Xavier Lecouturier. Both originally from the Bay-area, the two are long-time friends and collaborators. Their music draws from a wide range of genres including hip-hop, pop, funk, and jazz.
Jared Hall, trumpet
Nicole McCabe, alto sax
Rex Gregory, tenor sax
Stuart MacDonald, baritone sax
Martin Budde, guitar
Dylan Hayes, piano
Michael Glynn, bass
Xavier Lecouturier, drums