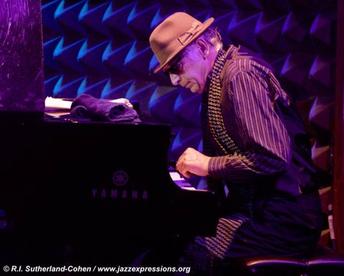 "Ladies and gentlemen, will you please turn on your cellphones."
Presented by Nadya Kadrevis and David Haney as a collaborative approach with Blake DeGraw and guest star Nathan Breedlove.
Improvisers, composers, and field contributors worldwide present Twenty Six Minutes Equals One Day
A Multi Media Interactive Performance in Eight Movements: PRIME, TERCE, SEXT, NONE, VESPERS, COMPLINE, VIGIL, MATINS
In early 2019, participants all over the world submitted 2-3 minute field recordings, plus photos for this project. Each participant was asked to record at a specific time. The end result is a 26-minute recording that starts with the 6 AM submissions and proceeds throughout the day at intervals of 3 hours. Additionally, a piano score was written by David Haney and two drummers: Bernard Purdie and Dave Storrs were commissioned to create a percussive response, a drum sound track, to the field recordings.
Tonight's performance will be in three parts:
– Short presentation of project
– Listening to the field recordings & Syncing all phones in room with selected instruments (26 minutes)
– Live musicians performing with field recordings (26 minutes)
The opening act will be a 20-minute set by Blake DeGraw & Guests performing The Ersatz, an experimental work for guitars, which tells the story of a brood of cicadas emerging from their gestation period only to be attacked by a predatory flock of birds.
David Haney studied composition for six years with Czech composer, Tomas Svoboda. After several years of working with the Society of Oregon Composers, Haney began applying his skills as a working jazz artist, often paired up with some of the greatest minds in jazz improvisation, such as Andrew Cyrille, Roswell Rudd, John Tchicai, Bud Shank, Bernard Purdie, Buell Neidlinger, Julian Priester, Han Bennink, Obo Addy, Wilbert de Joode, Gerry Hemingway, Wolter Weirbos, Perry Robinson, and Johannes Bauer. Haney has recorded 14 albums in ten years for C.I.M.P. Records and Cadence Jazz Records. David has also collaborated on 14 albums on other labels worldwide. He has received grants and commissions for his creative work from the U.S. State Department; Alberta Film Works; and the Oregon Ballet Theatre. Haney was awarded a travel grant from the U.S. State Department to present the music of composer Herbie Nichols in concerts throughout Argentina and Chile. Haney's piano/trombone work Ota Benga of the Batwa was included in the critics pick for best Jazz Album of 2007 (Coda Magazine). Conspiracy a go go and Clandestine were both selected Top Ten Jazz Albums of 2009 (Cadence Magazine). David's current release Solo received Top Ten honors in 2014 (Cadence Magazine).
Blake DeGraw is an experimental composer/performer whose chief interests are in alternative means of scoring and conduction, particularly as applied to performance by notation-illiterate and self-taught musicians in large-group settings. Utilizing such means as text, graphics, video, light, and audio to guide his works, DeGraw has been actively premiering compositions in Seattle since 2015, having collaborated with over 80 musicians in doing so. "The combined sound of [DeGraw's] ensemble could be described as if Charles Ives had access to white noise, electronic amplification, extreme distortion, and possible mind-altering psychedelic substances." – incareifyoulisten.com
Nadya Kadrevis is an experimental performer and filmmaker with an MFA in film. She is continually pushing the boundaries between reality and fiction within her films, and finding the harmony between things with her musical compositions and sound experimentations. She's performed and collaborated with David Haney and friends and Blake DeGraw, with guest stars such as Bernard Purdy and Julian Preister.
Nathan Breedlove, leader of The nu Trio, is a twice Grammy-nominated jazz trumpeter and composer. He began life at Fort Lewis, WA and was raised in Memphis,TN where his musical life began at age ten. Breedlove is the former front man for the legendary Skatalites, Lionel Hampton Orchestra, etc. He returned to the Seattle area after many years in NYC and abroad. Nathan has performed, toured and recorded with many legendary artists and five years ago created The nu Trio, with bassist Phil Sparks and drummer Brian Kirk. The relationship of the trio goes back over 25 years and can be experienced in their nu CD release, Captain of the Light Brigade.