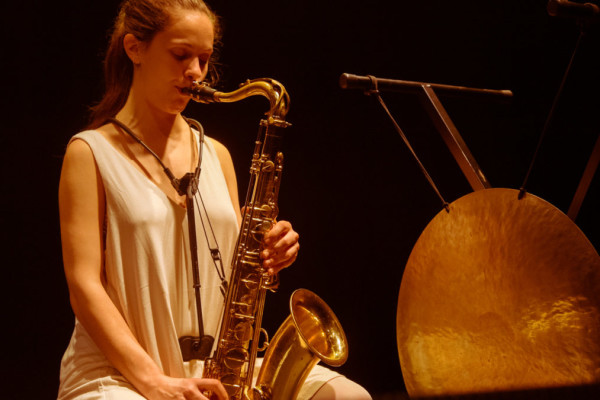 Tenor saxophonist María Grand presents her solo project: Persephone / HerStory. A young woman tells her personal story, taking the symbolic figure of Persephone to give her story a universal dimension. María Grand uses the saxophone, her voice, and a gong, which she plays over a soundtrack she created specifically for this version of the piece, to express her vision of the stages of Persephone's life.
Devised with Grand's creative partner, writer and visual artist Satya Celeste, Persephone / HerStory is a creative retelling of the myth of Persephone, as performed by Grand. The story of Persephone's betrayal, rape, and castigation is well known, but Grand's performance offers a new, more universal telling that raises the question of why descriptions of Persephone's experience always depict her as passive. Indeed, our portrayal of Persephone is ever-couched between the stories of the male gods Zeus, Hades, and Poseidon. Grand, instead of recasting the morals of the myth learned through their infidelity, violence, and attempts to mend past treacheries, focuses on what we might learn by listening to HerStory. Through her embodiment of the goddess, Grand provides a space to acknowledge the Persephone's living in the here-and-now, in our personal lives and communities.
One of the most exciting young voices to emerge from New York in recent years, Swiss/Argentine saxophonist, composer, and singer María Grand makes her first appearance in Seattle. She has performed with a wide array of musical luminaries, including Nicole Mitchell, Vijay Iyer, Craig Taborn, Mary Halvorson, Chris Potter, Jen Shyu, Aaron Parks, Fay Victor, Rajna Swaminathan and Joel Ross. Her sound is deeply embedded within the jazz tradition, with a fullness and subtlety that radiates emotion, empathy, and strength that carries us into new sonic territories. Her music is of the rare type that invites listeners to challenge their deepest held assumptions, interrogate where they are complicit within ongoing abuses of power, and ultimately move towards personal healing through the shared experience of music.
Presented by Earshot Jazz, supported by The Selvage Fund.
Photo: Pedro Gil Rosas