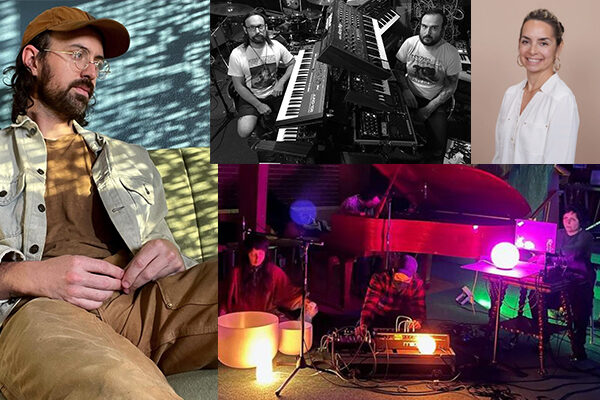 SFI Recordings presents an Evening of Inner Reflections featuring performances by the troubadour of modern new age music, Future Museums, along with duo Elrond, who will be performing a set of tranquil synth soundscapes augmented by crystal singing bowls, as well as the live debut of Seattle's New Frontiers (who released their debut album (of) Inner Dimensions on SFI recordings in 2021), and energetic work and a guided meditation led by accredited yoga teacher and hypnotherapist Karen Gamble. Doors at 7 PM, music at 7:30.
Future Museums (Austin, TX) is the moniker of producer/multi-instrumentalist Neil Lord. Using a broad spectrum of influences ranging from ambient & new age, to long form free improv and kosmiche excursions, Future Museums aims to investigate psychedelic music from a kaleidoscopic angle. Since 2009, the project has absorbed dozens of collaborators and amassed a catalog of almost as many releases. When performing live, solo or with an ensemble, the aim of Future Museums' spirit is to guide the listener gently by the hand into a phantasmagoric fugue state, in an attempt for a collective synesthesia.
Powerhouse electronic duo Elrond (Portland) is Ian Gorman Weiland (Antecessor, Hot Victory) and Vern Avola (Avola, EMS, Prizehog, Bear Spray). They provide a wide range of genre spanning soundtracks to usher in the bleak dystopian future now seemingly assigned to the human race. From hard hitting beats with relentless melodic sequences, to ambient slow burn, swamp slogging drones, Elrond bestows lush analog tones and digital arpeggios to the masses. The two-piece, most often accompanied by multiple tables of wire strewn analog and digital gear, combine their musical backgrounds of noise, metal, classical, and techno to conjure unique compositions. Be it melodic dance, deep listening, or somber reverb wall drone, Elrond can be considered a project that refuses to allow scenes, labels or genres to define it. Elrond is love.
Seeking an awakened consciousness through a sonic journey to our inner dimensions. All New Frontiers material has been manifested through the vessels of APC and JTK. This is Post Energetic Music for the Positive Nihilism Movement.
Opening and closing energetic work and a guided meditation led by Karen Gamble, a Yoga Instructor, Energy Worker and Hypnotherapist. In this evening's program she will set the mood with a guided meditation into self-awareness and love. Karen thrives on connection and participation so if you are inclined, follow her lead and let yourself tap into your own energy centers. To finish off the evening there will be a group experience to move into our hearts and connect with our individual and collective soul's journey.