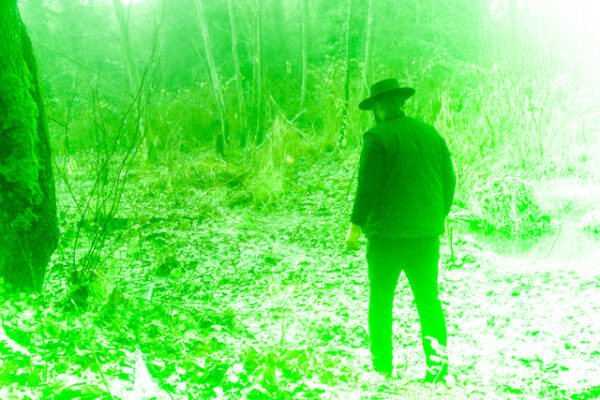 An evening of dark improvised experimental music and spoken word just before the Veil begins to Thin for all Hallows Eve.
Vanessa Skantze is a Butoh artist, yoga practitioner, and writer who has performed and taught in the US and Europe for over twenty years. For this evening's performance she will have a focus on her Spoken Word works. Skantze is a co-founder of Teatro de la Psychomachia, a DIY space which has hosted national and international performing artists and musicians for more than a decade. She also co-directed Butoh ensemble Danse Perdue. She has toured with Tatsuya Nakatani, Lydia Lunch, and shared the stage with Jarboe, and has choreographed to the music of Kris Force (Amber Asylum). Locally, she creates frequent collaborations with Noisepoetnobody and To End It All.
Ricksplund is an improvising duo from Salt Lake City consisting of Steven Ricks (trombone, electronics) and Christian Asplund (viola, piano/keyboards, electronics). The most recent manifestations of their duo work involve one improvising on a particular acoustic instrument (trombone or viola, respectively), while the other improvises adding effects, samples, and loops created from the live instrument's sound. In some cases prerecorded/composed audio elements are incorporated. In other cases, both set the acoustic instruments aside and improvise together using our respective electronic setups. Steven Ricks creates work that is bold, innovative, ambitious, and diverse, and that often includes strong narrative and theatrical influences. He is a professor of music theory and composition in the BYU School of Music. Christian Asplund is a Canadian-American composer-performer based in Utah where he teaches at Brigham Young University. His interests have included the intersections of text/music, improvisation/composition, and modular textures/forms.
Among the Pacific Northwest's hidden societies, Geist & the Sacred Ensemble forges a doom-inflected folk ritualism; dirges tinged with Eastern psychedelia and meandering meditative trances. For the last several years, the group has shown the regional underground a clear vision for their sound and lyrics, creating a shamanistic space for the listener, placing them into a trance, then building up the excitement. The overarching theme of their lyrical work is that of an idealist, a yearning for an end to the modern human condition, for destruction of the constructs and constraints of oppression. Their tunes exist as an ever-changing pilgrimage, transforming their abstract drifts into apocalyptic folk hymns or private confessionals. Geist & the Sacred Ensemble has shared the stage with acts as diverse as Oranssi Pazuzui, Insect Ark, Soriah, Six Organs Of Admittance, Pedestrian Deposit, Yonatan Gat, Father Murphy, and Jackie-O-Motherfucker. Their live shows are hypnotic and emotionally charged, often taking place at unique locations like a metal forge and foundry, forests and meadows, old schools, churches and more. Tonight at the Chapel they will be leaning into their DIG IN SESSIONS improvised experimental drone style.