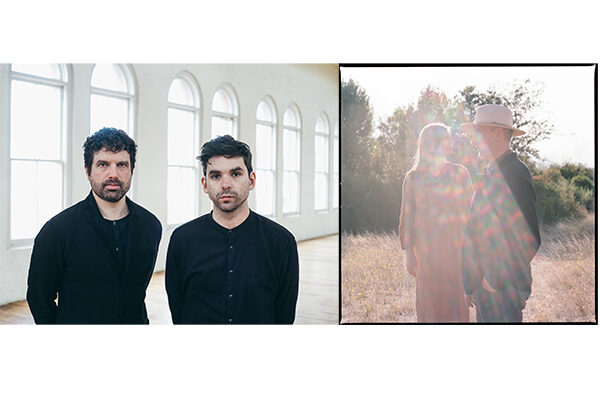 Golden Retriever (Matt Carlson and Jonathan Sielaff) and Saariselka (Chuck Johnson and Marielle Jakobsons) will share their cinematic and hypnotic electro-acoustic compositions for bass clarinet, pedal steel guitar, piano, and synthesizers.
Golden Retriever (bass clarinetist Jonathan Sielaff and modular synthesist/pianist Matt Carlson) have spent the last decade expanding their palette from primarily electronic music into works for chamber ensemble and electro-acoustic collaborations with jazz, classical, and folk musicians. Their collaborative 2020 LP Rain Shadow (Thrill Jockey), with Bay Area pedal steel guitarist Chuck Johnson, is a high point for both artists: slowly shifting instrumental arrangements combine clouds of melody and texture with vivid emotional peaks.

Saariselka, Johnson's duo with composer Marielle Jakobson (Fender Rhodes, organ, synthesizers), has been unearthing a new kind of ambient Americana since the release of The Ground Our Sky in 2019. Crafting a universe of remarkable resonance, the duo create a vibrant, seemingly infinite sway of sounds that exists unmoored in time and space.

This concert will feature performances from both duos, as well as a collaborative trio set in which Johnson will join Golden Retriever in the spirit of the Rain Shadow LP.
Presented by Nonsequitur.
COVID-19 PROTOCOLS: Following current mandates from King County & WA State public health officials, all audience members at this performance will be required to wear masks regardless of vaccination status. Additionally, chair seating will be arranged to maintain social distancing; people who live together may group chairs accordingly. Windows will be open, weather permitting. Audience should be aware that some performers will be singing or playing wind instruments.