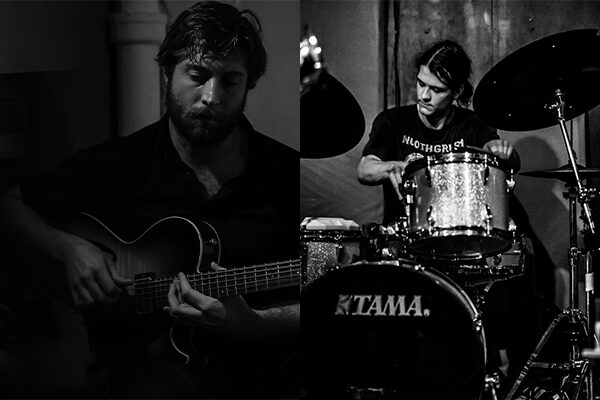 Brooklyn duo of guitarist Drew Wesely and drummer Kevin Murray improvise through liminal spaces of pitch, rhythm, timbre, and texture running the gamut from rhythmically dense collages to shimmering timbral interplay.

Drew Wesely has established themself as a unique voice on the guitar, pushing the instrument to new timbral and relational territories using screws, styrofoam, kitchen knives, ceramic plates, and cello bows, among other objects. Their music explores the intersection between noise and pitch running the gamut from ferocious energy and abstracted lyricism to repetition, space, and minimalism. Of primary concern in their practice are the fractal scales of form that emerge through improvisation. Their compositional approach aims to create dynamic, self-perpetuating musical spaces which embrace players' idiosyncrasies and allow the music to grow from itself organically while maintaining a unique intensity.
Kevin Murray is a drummer, saxophonist, improvisor, and organizer. He co-founded DIY label Subruckus Collective in 2013, and has continued his organizing efforts since moving to NYC in 2018 via the Pool Improvised Music Series and 1039 Records. He has been actively performing since 2012 in projects including Elaine the Singer, Strictly Missionary, the Eddie Gale Inner Peace Arkestra, the Kevin Murray Quartet, Percentage Bridge, Parhelion, and more.
Sharing the bill is a Northwest trio comprised of Arrington de Dionyso (bass clarinet, sax), Noel Kennon (sound sculptures), and China Faith Star (soprano sax, objects, electronics).
COVID-19 PROTOCOLS: Following current mandates from King County & WA State public health officials, all audience members at this performance will be required to wear masks regardless of vaccination status. Additionally, chair seating will be arranged to maintain social distancing; people who live together may group chairs accordingly. Windows will be open, weather permitting. Audience should be aware that some performers will be singing or playing wind instruments.