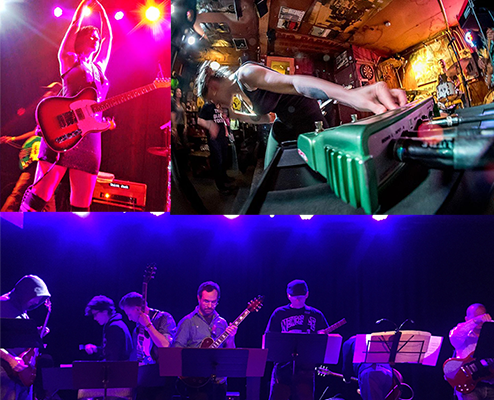 These three multi-faceted artists draw equally on mainstream and outside, giving birth to the new:
Kathy Moore is a go-to guitarist ranging from rock to funk to jazz and beyond. She is a studio musician, arranger, multi-instrumentalist and teacher who performs in many theater projects, and local bands: Thaddeus Turner (Maktub), Mike McCready (Pearl Jam, Mad Season, Flight To Mars), the band Brad, Crystal Beth and the Boom Boom Band, Shawn Smith, Kim Virant, Wayne Horvitz to name a few. In her solo incarnation,, she brings experiments in song using electronics, guitar and voice.
Ben McAllister's Guitar Cult: Not a Fripp or Branca situation: Guitars have mass and volume in Ben McAllister's compositions for the Guitar Cult. They are utterly unique, indisputably cutting edge and most importantly — effective.
Crystal Beth uses wailing vocals, amplified clarinet, beat-boxing and electronics to weave a sonic universe all her own. She has been described as "world music from an imaginary planet..quite compelling & magical" (Seattle Times), "a supremely versatile and virtuosic maverick" (The Stranger), and "one of the most fearless and innovative musicians in the city…" (Earshot Jazz). Known for crafting aural rituals that encompass industrial chants, alien disco breaks, heart gushings, and robot love songs, Crystal Beth redefines the possibilities of the voice and clarinet in tight experimental pop songs and undulating, cathartic noise cries.