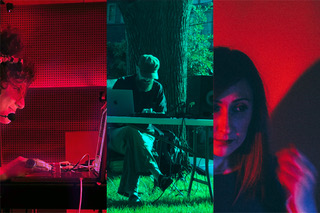 Please note that our building's elevator is now back in service!
Three sets of electronic music exploring voice, audience-phones-as-instrument, controlled feedback, and ambient space jams.
Lainie Fefferman will use a combination of vocal processing and networked sample triggering to create jaunty grooves and ambient soundscapes that leave the listener woozy like the end of a five-course rooftop meal.
Jascha Narveson will play a set of controlled feedback using the sound of the room as a starting point to launch into an atmospheric slow burn that sounds like a mini weather system.
Raica will have her modular synth called Bebe play a generative set of ambience and sound efx to drip in and mellow to.