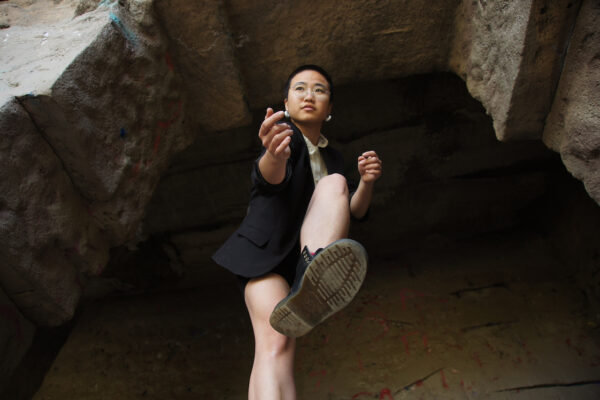 As part of Table & Chairs' new Weekend Residency program, Los Angeles-based musician and performer Mingjia Chen will collaborate with Seattle's Abbey Blackwell and Kayce Guthmiller for an evening of music interweaving song and improvisation into a fluid performance.
Born in Beijing, raised in Toronto, and based in Los Angeles, Mingjia Chen is a vocalist, composer, improviser, & multi-instrumentalist. Mingjia writes music that is equal parts ethereal and relatable, and performs it with courage and honesty. She makes music across a wide range of genres as a solo artist & as the vocalist and bandleader of the tortoise orchestra. An avid collaborator, she is a member of synth-pop duo uoou, GRAMMY award-winning vocal ensemble Roomful of Teeth, and post-punk band Pleasure Craft. Mingjia has performed at venues and festivals across Canada, China, Europe, and the US, premiering works by Juliet Palmer, David Occhipinti, & Michael Davidson, sharing the stage with the Regina Symphony Orchestra as a soloist, and seeing her compositions premiered at Mass MoCA, The Art Gallery of Ontario, & Brooklyn Botanical Gardens. She is currently pursuing her Masters in Composition at the USC Thornton School of Music. Mingjia has produced four releases as a band leader, and her debut solo full-length is forthcoming from New Amsterdam Records.
Abbey Blackwell is a multi-faceted double and electric bassist in Seattle, WA. She is a member of many musical scenes in Seattle's music community, including the improvised, rock, classical, and jazz spheres. In addition to playing in a variety of groups, she also has a band of her own, Rae, which features her compositions and group improvisation with Ronan Delisle (guitar) and Evan Woodle (drums). Abbey has performed and recorded with a variety of artists including Jonathan Wilson, La Luz, Macklemore, Myrkur, Thousands, Red Ribbon, Alvvays, and Cassandra Jenkins. In addition to recording, she plays in a wide array of groups around Seattle including with Wayne Horvitz, The Seattle Modern Orchestra, Tomo Nakayama, and Great Spiders. Abbey holds a master's degree in Jazz and Improvised Music and a bachelor's of music in Double Bass Performance from the University of Washington.
Kayce Guthmiller is a violist, vocalist, songwriter, and improviser born and raised in Boise, Idaho. Currently based in Seattle, they graduated from Cornish College of the Arts in 2021. Through Cornish they explored unlearning the restraint of their classical training and embraced experimentation and songwriting, looking up to their influences Andrew Bird, Fleet Foxes, and Joni Mitchell among them. Kayce was featured on Chris Thile's Live From Here in 2020 and wrote, produced, recorded, and released their debut album in the solitude of 2021, the slow, with mentorship from Seattle's Dr. Kaley Lane Eaton and Heather Bentley. The record, featuring predominantly just viola, voice, and drums, is a sparse, nostalgic homage to memory, the wounds of childhood, isolation, and the sweetness of connection.
(photo of Mingjia Chen by Erika Poh)