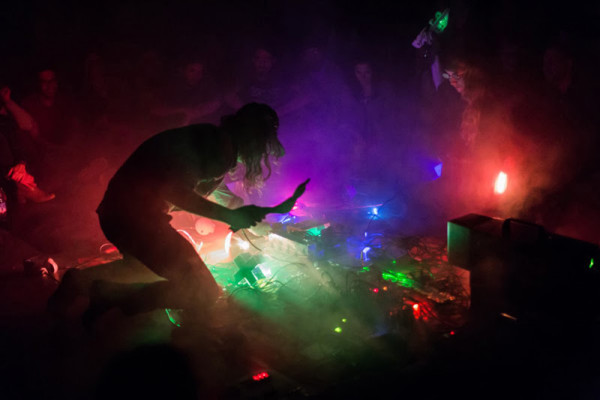 Gift Tapes presents an exciting evening of off-kilter, virtual-leaning performances. RM Francis will initiate the evening with an unusual ambient set (at GT's request!), followed by disquieting interlude of sound and dance from LIMITS (Corrie Befort & Jason E Anderson), the tweaked and clouded warpings of Portland-based Million Mists (Jamie Potter of Brother Raven) and the exceptional performance art-installation/noise band MSHR (Brenna Murphy and Birch Cooper!!) performing with custom electronics & lights!
MSHR is a collaborative project by Birch Cooper and Brenna Murphy based in Portland, Oregon. The duo produces installations, sculptures and ritualistic performances that place the human body into a dynamic relationship with sound and light, generating expanded sensory experiences. Their current performance series, titled Resonant Hyper Scape Modulator, revolves around a unique system of light-audio feedback that employs their hand made synthesizers. The duo insert themselves into the system, shifting sculptural sensors to steer the feedback patterns as they explore the hyperscapes of a transhumanist ceremony. MSHR emerged from the 5 person art collective Oregon Painting Society in 2011.
Million Mists is the musical project of Portland resident Jamie Potter. Drawing inspiration from his visual and video art practice, he seeks primarily to create immersive, idiosyncratic sound worlds. Largely improvised, performances often begin as a chaotic effort to reconcile the disparate personalities of an array of sound producing devices, from which narrative passages have the potential to arise. Fleeting moments of harmony are to be savored. Potter also plays with musical groups Bonus and Brother Raven.
LIMITS is a Seattle-based interdisciplinary-performance art hybrid collaboration created by choreographer/dancer Corrie Befort and sound artist/musician Jason E Anderson. The duo draws upon their shared history and involvement with improvisation, film/video art, installation, and activities within the realm of experimental performance. LIMITS uses music venues, art galleries, site-specific and re-purposed locations as platforms to perform scored improvisations intended to generate scenarios that become the basis for new, iterative works of film, installations, audio recordings, and large-scale performances. Employing conceptual, abstract, and narrative methodologies, their efforts investigate psychological experiences of time, perception and memory.
RM Francis is the computer music project of Seattle computer musician Robert Francis. His work incorporates granular synthesis, spectral processing, algorithmic composition, graphical interfaces and image sonification. He has been performing solo since 2011. His most recent releases are Attributed Agency on DRAFT and Recycled Sleep on Agents of Chaos.