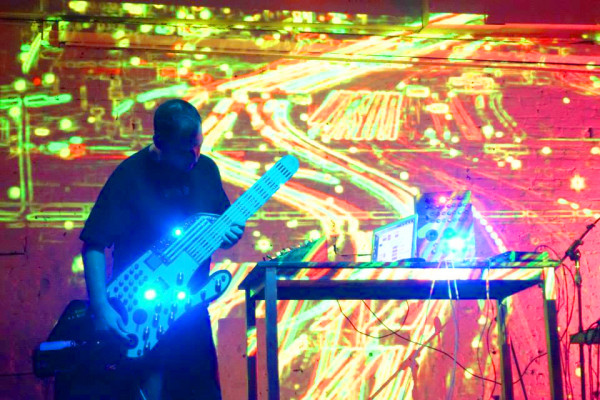 Smomid is a project where musician Nick Demopoulos performs on a touch sensitive guitar called a Smomid™, which is an acronym for String Modeling Midi Device, and Pyramidi™, a triangular midi interface resembling a console. Both of these instruments, which he designed and built, emit light as well as sound. These instruments allow Nick to control beats, harmonies, manipulate audio samples, play melodies and program high powered LEDs to interact with his compositions. Using this instrument allows Nick to explore his interests in Algorithmic Composition, Artificial Intelligence, and Fractal Rhythms, and allow him to easily alternate among several unorthodox and microtonal tunings.
In January 2015 he released his first full length album of music created only with Smomid and Pyramidi instruments called Rhythms of Light. With his Smomid, Nick has been featured on the Discovery Science Network, Guitar World, Create Digital Music, Metal Injection and Popular Noise Magazine, among others. As a guitarist he worked with NEA Jazz master Chico Hamilton from 2008 to 2013, and has released several recordings with Exegesis, a group that mixes jazz and electronic music. In 2008 he traveled on behalf of the State Department to conduct cultural diplomacy and perform in Bahrain, Yemen, Oman, U.A.E and Kuwait. Other artists he has worked with include choreographer Camille Brown, Complexions Contemporary Ballet, George Bohannon, Jimmy Owens, Don Mckenzie, Willie Jones the 3rd, Lonnie Plaxico and Intra Faction.
Seattle electronic guitarist Vance Galloway opens.