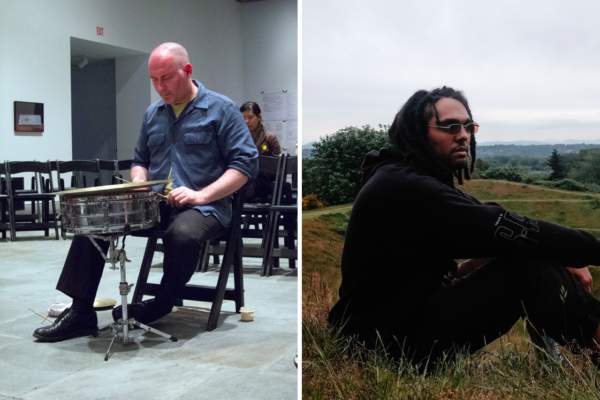 Please note that our building's only elevator is still out of service, so the only way to access the Chapel is via a couple flights of stairs. We apologize for the inconvenience.
Drummer Sean Meehan (NYC) began performing during the late 1980s, presenting his increasingly refined and reductive approach to the drum set at small, informal spaces and artist-run festivals as well as more prestigious venues. For nearly twenty years he and Tamio Shiraishi presented their summer concert series, always in different interstitial locations throughout New York City. Three of these concerts have been documented on LP on the Fusetron and GD Stereo labels.
Meehan's most recent projects include a highly abridged audiobook of Hermann von Helmholtz's seminal text from 1863, On the Sensations of Tone (2017), and Magazine (Sacred Realism, 2022), a piece for solo cowbell. He was featured in a recent issue of the music journal Sound American.
Seattle remains an important place for Meehan as many of his most treasured and enduring friendships and musical partnerships formed here. Tonight he'll play a solo set with snare drum and cymbals using a range of idiosyncratic and temperamental techniques, often at the mercy of the instrument and room, but ideally some control (composition) will be evident.
tondiue is the vessel conveying the musical expressions of Seattleite Cameron Kelley. These expressions take shape as productions and performances that span a wide range of psychedelic sounds from deep listening to ecstatic dance, all while exploring the sacred roots of afrofuturistic sound design. Hypnotic rhythms, expansive atmospheres and tactile textures form the environments heard and felt in tondiue's world. Cameron also co-operates local record label and underground event series Apt E, and is part of the organizing group for Group Hum, a local up and coming experimental arts and music festival. For this set Cameron will be joined by two revered veterans of the Seattle experimental community:
Sue Ann Harkey has been a part of Seattle and New York's underground music and visual arts scenes for decades. Her work, which has been referred to as "futurist folk," blends philosophical and political lyrics with improvised music inspired by free jazz, electronic, folk, and Middle Eastern and African elements. Harkey discovered improvisational music's power in 1979, when she began playing guitar with friends; this led to her exploration of the harp-guitar and the 12-string guitar, which she played with mallets, bows, plectrums, and rods, and which also featured alternate tunings and metal discs woven between the strings. By 1980, Harkey formed the cassette label/political pamphlet distributor Cityzens for Non-Linear Futures (CNLF) and the improv group Audio Letter.
Classically trained and rigorously de-trained, possessor of a restless, semi-feral spirit, Lori Goldston is a cellist, composer, improvisor, producer, writer and teacher from Seattle. Her voice as a cellist, amplified or acoustic, is full, textured, committed and original. A relentless inquirer, her work drifts freely across borders that separate genre, discipline, time and geography.
Doors at 7:30; no one turned away for lack of funds.
Curated for Nonsequitur's NonSeq series by Lori Goldston.