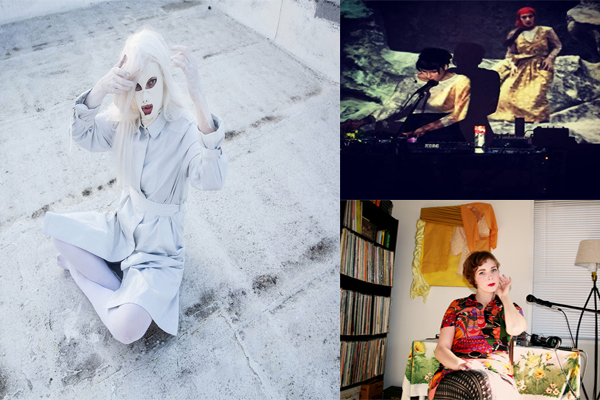 Doors open at 7:30.
Suzy Poling/Pod Blotz is a multi-media artist working with sound, video, film, photography installation, sculpture, painting, collage and performance art. She researches the multi- dimensional interferences between optics, mirrors, sonic resonance, electrical synthesis, video experiments, human/alien identities and photographic studies of geological anomalies. She is from Michigan, studied at Columbia College in Chicago, lived in the San Francisco Bay Area for almost a decade and now resides in Los Angeles.
Visually, her work has been exhibited at the Yerba Buena Center for the Arts, Southern Exposure, Disjecta, Cal Polytechnic University, Chicago Cultural Center, Australian Center for Photography, Aperture Foundation, Cult Exhibitions/Aimee Friberg and Zg Gallery. Her images have been published in The New York Times, Harper's Magazine, Dazed Digital and a Metropolitan Museum of Art Book. She has lectured at Cal Poly University, de Young Museum, Headland Center for the Arts, Columbia College of Chicago. Poling is a recipient of the Mike Kelley Foundation Grant and was a nominee for the SECA Award at the SFMOMA.
Sonically, her project Pod Blotz has performed at the San Francisco Electronic Music Festival, Colour out of Space Festival, Yerba Beuna Center for the Arts, Berkeley Art Museum, Human Resources, The LAB and Bemis Center for the Contemporary Arts. Pod Blotz has made releases with Chocolate Monk (UK), Nostilevo (LA), Conjunto Vacio (Spain), Clan Destine Records (UK) and Dungeon Taxis (NZ/NYC).
Poling will be supported by local acts, Bloom Offering (industrial electronic solo project of Nicole Carr) and Cruel Diagonals (vocalist and field recordist, Megan Mitchell) + DJ sets from Hall ov Mirrors (Ambient cassette jockey HOM Ashley Svn of Motor & Katabatik) playing/spinning entirely original environmental music composed especially for the Chapel's beautiful/unique resonances.