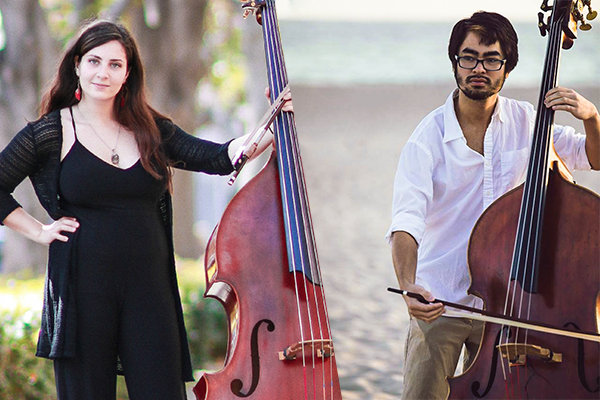 Rebecca Lawrence and James Vitz­-Wong first met as bass section-mates in Seattle Youth Symphony Orchestra. Seven years later, they are both striving to expand bass repertoire outside of the boundaries of classical music. Tonight they present acoustic and electronic, contemporary and original works for the double bass.
Seattle native James Vitz­-Wong is a multi­disciplinary artist and performer, and a graduate of Oberlin Conservatory and California Institute of the Arts. James's sonic work focuses on layering soundscapes and digitally manipulated bass. Other explorations include interactive installation, immersive theater, and contemporary dance.
Rebecca Lawrence is an emerging artist committed to the performance of contemporary solo and chamber music for the double bass. A 2018 Bang On A Can fellow, her work explores the spaces between classical music, folk, pop music and experimental improvisation. She is a recent graduate of the University of Southern California and will continue her studies this fall in Paris with François Rabbath.