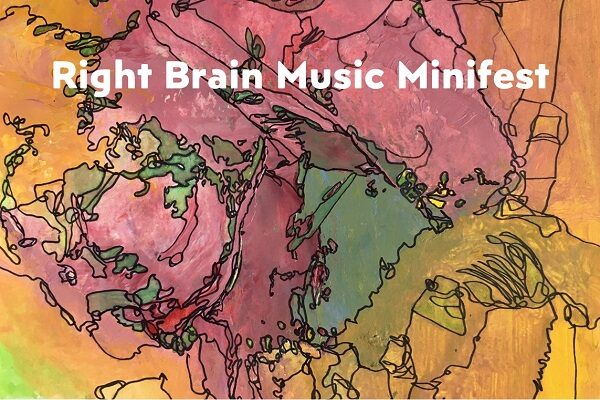 The Right Brain Music Minifest is a one-night explosion of improvised music, featuring local virtuosos and spontaneous jams that will stretch your imagination. The Minifest will include short sets by widely contrasting local artists, followed by Chance Trios, randomly chosen by audience members, and a massive full ensemble jam, in a unique program to be created for just this audience on this night only. Featured artists include:
Bill Horist, a renowned master of experimental guitar music, known for a mind-boggling range of palettes.

Amy Denio, a prolific, world-class vocalist, composer and improviser, known for busting known frontiers of the human voice.
Spontanea, a free improv quartet that creates surprising, otherworldly soundscapes, comprised of Carol Levin (harp), Kenny Mandel (sax, flute), Matt Benham (guitar, electronics) and Scott Schaffer (bass).

Outlaw Space, a youthful, high-energy post-jazz quartet that defies genre labels and adjectives, with Stephen Fandrich (piano), Kirill Polyanskiy (violin), and Bill Monteleone (reeds).
COVID-19 PROTOCOLS: Following current mandates from King County & WA State public health officials, all audience members at this performance will be required to wear masks regardless of vaccination status. Additionally, chair seating will be arranged to maintain social distancing; people who live together may group chairs accordingly. Audience should be aware that performers will be unmasked, and some will be singing or playing wind instruments.