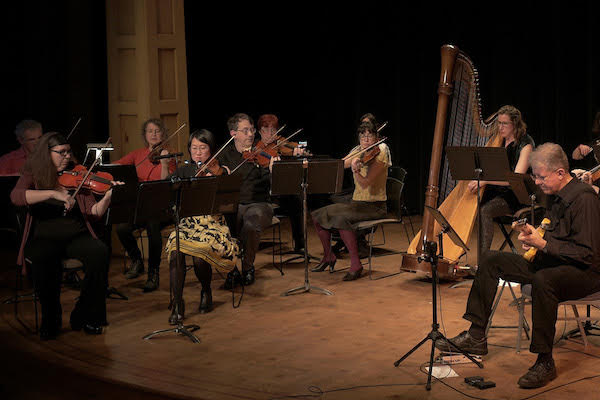 Jim Knapp's unique ensemble of jazz-inflected guitar & bass, plus symphonic harp & strings, celebrates its ninth year with a return to the Chapel.
SCRAPE is a 9-20 player ensemble playing original compositions. It features noted local musicians, including improvisers Chris Symer on upright bass & Brian Monroney on electric guitar, and Heather Bentley as violinist/leader. Founder Jim Knapp is the composer of all the tunes on this concert. Brianna Atwell is our principal violist, librarian, and music editor for publication and performance.
Music Educators — you are especially welcome to our performance! We are inaugurating published versions of SCRAPE tunes, suitable for intermediate- and advanced-level school ensembles. Thanks to Seattle-based Marina Music, who are our new publishers!! Please get in touch with us or Marina, before or after the show for more information.