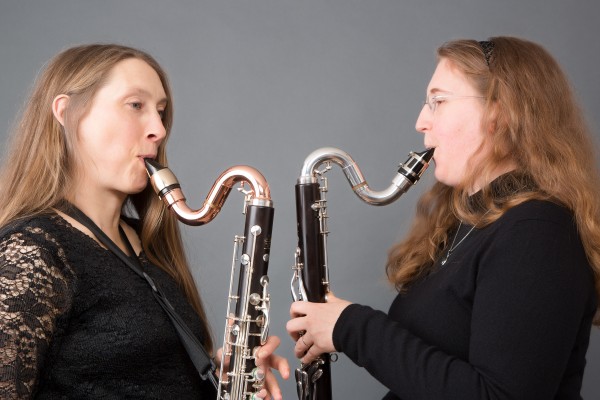 The Seattle Bass Clarinet Project was founded in 2013 by Jenny Ziefel and Beverly Setzer to promote the bass clarinet as a vital voice in new music. The Setzer/Ziefel Duo has commissioned several works for bass clarinet duet from Seattle area composers and performs regularly around the Seattle area. Other members of SCBP include Lori Shepherd and Brian Madsen. The SCBP strives to introduce new audiences to the instrument its members love and to foster interest in new music. This concert will include the World Premiere of Sean Osborn's Four Moods for Bass Clarinet Duo and performances of pieces by Bill Smith, Jim Knodle, Daniel Barry, and other composers.
Jenny Ziefel is an active Seattle area performer and teacher. She earned her D.M.A. in Clarinet from the University of Washington in 2002 after studying clarinet at the University of Northern Colorado and both clarinet and saxophone at Lawrence University (in Wisconsin). She plays in orchestras and chamber music groups as well as jazz ensembles and other improvisatory settings. She is a member of the Lake Washington Symphony, Seattle Women's Jazz Orchestra, the Setzer/Ziefel Duo, and a variety of chamber ensembles. Her recent performances include playing for the Earshot Jazz Festival, performing at Clarinetissimo, and playing bass clarinet with the Cascade Symphony. She is an active freelancer and has a vibrant studio of clarinet and saxophone students.
Beverly Setzer holds a Bachelor of Arts and a Bachelor of Music in clarinet performance from the University of Washington. After college, Bev spent a year playing co-principal and principal clarinet in La Filarmónica del Bajío in Guanajuato, Mexico. Bev is a member of the Tacoma Symphony, the Lake Washington Symphony, the Bavarian Village Band, Roadside Attraction, Banda Vagos, and the Mellifluous Zephyrs. She enjoys playing a wide variety of music ranging from classical to polkas to jazz. She lives on a little farm in Snohomish with her trombone playing husband and two children.